'One Last Time': 20 Questions with Masquerade Co-President Sam Dizon
Sam Dizon, senior, Homecoming Queen, Masquerade Co-President, and six-year United Choirs of Brea (UCB) member, is prepared to "blow us all away" at her final Fall Magic performances on Thursday and Saturday.
Dizon, and fellow UCB performers, have been looking forward to this performance since theaters were closed to live shows in 2019 due to the COVID-19 pandemic.
The Wildcat asked Dizon 20 questions about her life, Fall Magic, and choir.
---
1. Why did you join choir? 
I joined choir because when I was in fourth grade, our elementary schools all came together and they did little musicals together, and I did those three years in a row. I really enjoyed it and a good amount of my friends were planning on doing choir. I come from a band family background, so my parents were kind of nervous about me joining choir because they didn't know if I would enjoy it or not because it was really new to us. I'm ultimately really glad that I joined because it's been a lot of fun. 
2. What is your favorite part about UCB?
I really love the family aspect of how we can be honest and encouraging of one another. For example, when someone tries out for solos or decides to do something that's out of their comfort zone, we're always there for each other and cheering for one another. There is a big proponent of inclusivity and choir is just a really nice space to be yourself and bond with everyone. 
3. What is the theme for the upcoming Fall Magic show?
Masquerade's theme this year is Hamilton. 
4. What do you do as a choir to prepare for the show? 
Right now, we are in the midst of learning music and going through the sheet music as a class in each section. People are also coming in and teaching us dances, basically just like warm-ups and the actual dances for the upcoming show. 
5. What's your favorite song from the set?
I love Hamilton. Right now we're doing "My Shot," which is really fun, but "Schuyler Sisters" is equally as fun.  
6. Do you have any UCB traditions?
There's a lot of traditions, but something that I love doing every year is this thing called Feel-Good Fridays, which were brought about during my freshman year. Basically, Feel-Good Fridays are where we have this little box and people would write little positivity notes to anyone they wanted to. It could be to the whole choir or to one person and every Friday we'd read them aloud, and I've been a very big supporter of that. Last year, when our old choir director [Alex Willert] left and we had a sub, I made sure to remind them of this tradition so that it could keep going. It's such a cute thing to make people's days better and it's very nice spreading that positivity around when we need it the most.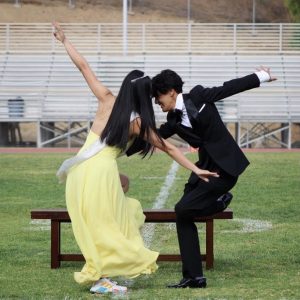 7. Do you have any personal superstitions before performing? 
Personally, I like to say good luck all the time, and apparently, you shouldn't say that, you should say "break a leg" in the performing world. I don't really know why, but I've been trying to say "break a leg" more instead of good luck, but I guess that's something that I have to try to remember. 
8. What's your favorite UCB show you've ever been in?
The same year that the pandemic started, we were in a show called Once Upon a Nightmare, which was based off of Sleeping Beauty, but with intriguing little twists. I got to be a yellow fairy and that was literally a dream come true. It was so fun, and our acapella song was "Yesterday," which is my favorite song from the Beatles. 
9. Who's your choir inspiration?
My freshman year, I got to be in choir with [former Masquerade president] Claire Manson ('19) and she's really, really cool and sweet too, so definitely Claire. 
10. What is your favorite musical?
There was a phase in junior high where literally all I watched was Anastasia — Christie Alomar and Derek Claddagh were my everything. I also really got into Dear Evan Hanson and Hamilton, which is kind of basic, but Anastasia makes me feel the most nostalgic. 
11. If you could be in any Broadway show, what would it be and who would you play?
If they ever made a Tangled musical…I feel like that'd be a really fun thing to be a part of. I [would] love to see that. 
12. Who is your favorite Broadway performer?
Christy Altomare. She played Anastasia on Broadway for two-and-a-half years. [Altomare] is just a very kind and compassionate person in real life too, and everything about her is just really wonderful. I really look up to her as she is a really big inspiration of mine. 
13. Do you prefer singing or acting?
Definitely singing, I like music more than I like acting. 
14. Do you prefer singing or dancing? 
Still singing. I can't dance. 
15. Who is UCB's best dancer?
Our dance captains are wonderful. Seniors Brooklyn Cameron, Angelina Godinez, and Charlize Siazon are so good. For the guys, seniors Nolan Guss, Connor Dapkus, and junior Ethan DeLa Mota are very good dancers as well.
16. Who in UCB is most likely to go on Broadway?
I feel like that would be [junior] Molly Navarro. Her voice is just so impeccable and every performance of hers has made me tear up. She can act and dance really well too, so I feel like she's like the total package. 
17. What's the most rewarding part of being in choir?
What matters most to me is how we feel when performing. Knowing that you try your best is a really nice feeling, and performing with your friends and this family that you've built together is the greatest feeling in the world. It all just makes me so happy. 
18. What is your favorite movie musical?
LaLa Land for sure, from the whole plotline, colors, and cinematography to actors Emma Stone and Ryan Gosling, the whole story is really beautiful, along with the music.
19. What is your favorite UCB memory?
My favorite UCB memory is probably from the week before the world shut down, [Willert] told us all to go out there and perform, and just have fun. It was so nice to be able to perform freely on stage at Nationals in Tennessee and have a good time with one another.
20. What are your post-high school plans?
I definitely want to go to college and graduate, get that higher-level education, and then I'm unsure of exactly what I want to do. I am sure that I will still have a hobby of art and music, I just might not go professional with it.
---
Fall Magic debuts this Thursday at 7 p.m. in the Performing Arts Center, and wraps on Saturday with two shows, at 2 p.m. and 7 p.m. 
Leave a Comment