Retail Stores Stealing Thor's Thunder
Opinion Editor Natalie DiCesaris laments the lack of Thor merch in local retail stores.
We need to drop the Mjölnir hammer on the lack of Thor mechandise in stores. 
Every time I walk past a Marvel section of a Target or Walmart — whether the childrens' clothes, toys, and even room decor — I always keep an eye out for my favorite Marvel Cinematic Universe (MCU) character, Thor, and most times, disappointingly, the God of Thunder is nowhere to be found. 
Thor actor Chris Hemsworth's visage belongs next to Robert Downey Jr.'s and Chris Evans' on the shelves at Target, and not just because Hemsworth undeniably hot, but because Thor has the unique distinction of being the only MCU character to have four solo movies — Thor (2011), Thor: Dark World (2013), Thor: Ragnarok (2017), and next year's Thor: Love and Thunder. He is one of the most profitable characters in the entire MCU, bringing in almost two billion dollars at the box office.
So why then, if Thor is so popular on the big screen, are the retail racks instead filled with images of Captain America (retired!), Iron Man (dead!), and Spider-Man? Thor, of luscious locks and mighty hammer, is absent, as if snapped out of existence by Thanos. As one of the most popular (and attractive) Avengers, Thor should be more visible, and more available. 
To prove just how bad this no-Thor-in-the-stores situation is, I investigated, Nick Fury-style, with a trip to the Birch Street Target. And to my dismay, this is what I discovered: 
Of the eleven sets of Marvel Legos, only one set — "Thor Mech Armor" — includes a Thor figure. And despite being one of the founding members of the MCU super-team (he's even the featured Avenger on the cover of the 1963 debut issue of the comic!), none of the five Avengers Lego sets includes Thor. 

Four versions of Captain America action figures.

An Iron Man helmet and fist. (What's next, the whole suit?) 

A THANOS glove.

Ten (!) different Spider-Man toys, including a helmet (?) and "Spider Web" gloves.

Two Loki figures.

A load of Eternals characters. (Which I mistook, at first, as Barbies.) 

Multiple Avengers t-shirts that only depict Iron Man, Spider-Man, and Captain America. (More Hulk erasure!)

An Iron Man piggy bank. (Totally on brand for billionaire Tony Stark.) 

An Avengers comforter, also sans Thor. (But with a rare Hulk cameo.)
After digging behind boxes on shelves, picking through t-shirts, and probing every aisles, I only found three Thor-related items — the aforementioned Lego set, a cartoony Thor action figure, and a tiny Thor figure packaged with a couple dozen other MCU characters.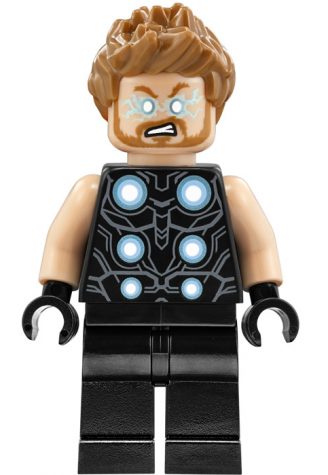 A store carrying only three Thor products out of the 30 different Marvel-themed children's toys is a betrayal by Disney, by Target, by so-called "fans" of the MCU (who seem to only care about Captain America, Spider-Man, and Iron Man).  
Even more insulting: Loki — LOKI — has more merchandise than Thor. Loki is a villain! He's Thor's bumbling nemesis! 
Searching for Thor-related objects on shelves stuffed with Hulk "Smash" Fists and dozens of Spider-Man action figures is a frustrating endeavor. All we Hemsworth Heads want is a sliver of shelf space for the son of Odin.  
Sleuthing further, I reached out, online, to a Target customer service representative and inquired about the lack of Thor merchandise in stores. Her less than helpful reply: "We cannot guarantee the availability of an item in every store." 
As Thor would say: "You people are so petty. And tiny."
The Asgardian founder of the Avengers deserves better. Chris Hemsworth deserves better. Fans of Thor deserve better. It's time for Target and other retail stores to chill with the Spider-Man and Iron Man merch and find some space for the handsome hammer-wielding lightning god. 
Leave a Comment
About the Contributors
Natalie Di Cesaris, Opinion Editor
Senior Natalie DiCesaris is Opinion Editor for the Wildcat newspaper. Along with being in journalism class, she also is part of Brea Olinda's water polo...
Alexis Alexander, Photo Manager
Alexis Alexander, senior, is one of the Photo Managers on the Wildcat. She has a strong passion for taking photos and telling stories through her pictures....