BTS Set to Leave for Military Service, Bows Goodbye to ARMY Fans Until 2025
A pressing question about the globally renowned K-pop group BTS was answered on Oct.17: whether the seven members should receive exemption from South Korea's mandatory military conscription. 
The group's agency, HYBE Entertainment, released a press statement on Twitter that "the members of BTS are currently moving forward with plans to fulfill their military service."
In South Korea, all able-bodied male citizens between ages 18 and 35 are required to serve in the army for 18 to 21 months. The first of BTS to enlist is Seok-jin 'Jin,' Kim, the eldest member of the group, who has been delaying military service since June 2022.
One main reason Jin postponed his enlistment was due to the release of his new single, "The Astronaut," on Oct. 28. The music video of his solo has a touching backstory of leaving planet Earth, which parallels Jin's halt of activity in the K-pop industry this December. Jin's full album is expected to be released after his return from duty in about 18 months. All seven members of BTS will eventually serve in the military between now and 2025.
Nolan NiCassio, senior, has been a fan of the boy group since eighth grade. "I think they're setting a good example for the rest of the country," he said.

Members of BTS's fanbase, known as ARMY, argue that BTS should have exceptions to the military requirement due to their world renown success and influence on the South Korean economy. According to Statista, BTS contributed to $4.65 billion in revenue in 2018, or 0.3 percent South Korean GDP.
"Medalists at Asian Games or Olympics and recipients of awards in designated national or international classical music and art competitions" have eligibility for exemptions, as mentioned in The Korea Times.
A popular example of this is when Son Heung Min, professional soccer player for Tottenham Hotspur, was allotted basic military training over a shortened time of three weeks due to his contribution to a victory in the Asian Games.
Although the South Korean government hasn't lifted any service length requirements for K-pop idols, the Military Service Act was passed in 2018 to allow certain stars to delay enlistment until age 30. 
On campus, there is ARMY fanbase representation. Lauren Ahn, junior and president of Korean Culture Club, feels that BTS made an honorable decision to enlist like every other citizen. "The government had been toying with the idea of an alternative service for years, and having a clear answer on this issue can finally bring some assurance for the group and fans alike," she said.
Sera Yoon, Korean teacher, said that she is "excited for [the members'] individual schedules, but [she] will definitely miss them performing as a group." BTS plans to reconvene in 2025, with other members continuing solo activities in the meanwhile.
Leave a Comment
About the Contributor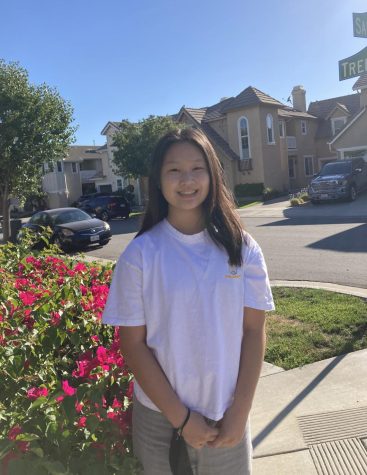 Ellen Kim, Staff Writer
Ellen Kim, junior, is enthusiastic about starting her second year in the newspaper team as a staff writer. At school, Ellen is a part of many clubs including...