Classic Japanese Treat gets Soft-Serve Twist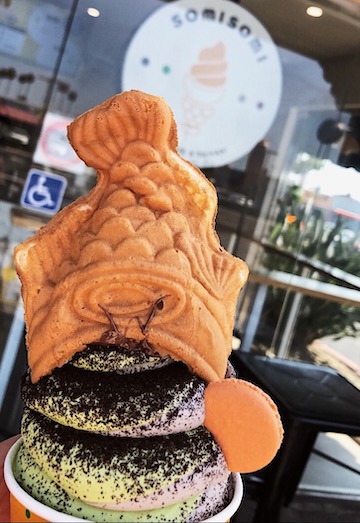 For those who crave a novel take on an American comfort dessert, soft serve, and a Japanese classic, taiyaki, I highly recommend visiting Somi Somi in Garden Grove.
Somi Somi specializes in ah-boong, a multilayered treat consisting of fish-shaped pastry stuffed with filling and topped with soft serve. Taiyakis are fish-shaped snacks best described as a blend of a waffle and a cake filled with azuki sweet red bean paste. The Japanese delicacy is often sold at street fairs and stalls. 
I ordered a matcha and Oreo swirl ah-boong with Nutella filling. I enjoyed how I was able to watch my order getting fulfilled: the worker baked the batter in the taiyaki mold, filled the cavity with Nutella, and packed the taiyaki with soft cream. My order was prepared in less than five minutes, and I chose to top my ah-boong with Oreo crumbs and a mini macaron. 
The bitterness of the matcha soft serve contrasted the sweetness of the Oreo soft serve, and the macaron added a pleasant crunch as well. It was a bit difficult to navigate my way around eating this dessert, because the heat of the taiyaki pastry melted most of the soft serve. However, after I finished most of the ice cream, I found it easier to savor all of the different textures and flavors.
The ah-boong flavors are displayed on a TV above the cashier, and everything else — the walls, countertop, and tables — are stark white. The inside of Somi Somi is relatively small, and has a small outdoor patio space. Overall, the design of the space is bland and doesn't match the originality of their dessert. 
Currently, due to the pandemic, the indoor tables and seats are blocked off, and customers can either eat their ah-boongs on the patio or elsewhere. Customers are required to wear a mask to enter the dessert shop. 
Despite the bland interior, my experience with this location of Somi Somi was exceptional: the worker's efficiency with preparing my order and the delicate melding of flavors and textures of the ah-boong will have me coming back for more.
Currently, there are over 20 Somi Somi locations in Orange and L.A. counties. This Somi Somi is located at 9828 Garden Grove Blvd. in Garden Grove.
Leave a Comment
About the Contributor
Amber Kim, A&E and Foods Editor
Senior Amber Kim is an avid reader/foodie. This is her third year on staff, and she can't wait to share about local eateries that peak her interest; alongside...