Not-So-Candy Candy Bar Recipe
Bummed about not being able to trick-or-treat this year? Bake the next best thing with this easy-to-make treat to make up for this years' canceled trick-or-treating.
Halloween is the one time of the year when we have a somewhat reasonable excuse for eating excessive amounts of sugar and candy. Although you might not be able to go trick-or-treating this year to hoard piles of candy, a Not-So-Candy Candy Bar is an easy-to-make dessert alternative. This recipe is perfect for people who love chocolate and sweet treats as it combines the classic flavors of Reese's Peanut Butter Cups: peanut butter and chocolate.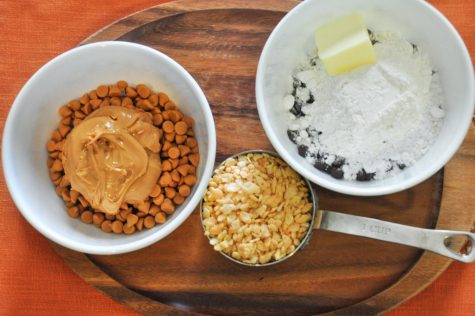 Ingredients for top and bottom layer:
1 cup butterscotch morsels
½ cup peanut butter
6 cups Rice Krispies cereal
Ingredients for middle layer:
1 cup chocolate chips
½ cup powdered sugar
1 tbsp water
2 tbsp Butter
Not-So-Candy Candy Bar, Step-by-Step
STEP 1: In a medium saucepan, mix together the butterscotch morsels and peanut butter on medium-low heat. Keep stirring. Once the mixture is melted, turn off the heat and add the Rice Krispies. Mix until everything is evenly distributed, and put to the side.
STEP 2: In a separate saucepan on low heat, add the chocolate chips, powdered sugar, water, and butter. Make sure to continually stir this chocolate mixture, or else the chocolate will burn. After stirring for about 2-3 minutes, it'll begin to thicken into a paste. Then turn off the heat and set aside.
STEP 3: Next, grab a baking pan (an eight-inch square pan is ideal, but you can use a longer pan if you want the layers to be thinner). 
STEP 4: Line the pan with aluminum foil or plastic wrap and add half of the Rices Krispie mixture. Press it down and make sure that the layer is even. Refrigerate for five minutes.
STEP 5: Then, add the chocolate mixture on top of the Rice Krispies layer and refrigerate for five minutes.
STEP 6: Last, add the rest of the Rice Krispies and press firmly. Refrigerate this for at least three hours. 
STEP 7: Once everything is set, and it comes out of the pan easily, cut it into small bars. 
STEP 8: Enjoy with your favorite scary movie!
Leave a Comment
About the Contributor
Amber Kim, A&E and Foods Editor
Senior Amber Kim is an avid reader/foodie. This is her third year on staff, and she can't wait to share about local eateries that peak her interest; alongside...