A Perfect Pecan Pie
Wildcat Food Editor Amber Kim shares her mom's mini pecan pie recipe.
Christmas is coming, and peppermint bark and gingerbread houses are appearing in stores and bakeries are whipping up seasonal and traditional Christmas treats. But the one dessert that I can never get enough of is mini pecan pies — specifically, my mom's mini pecan pies. Because this year's holiday season requires social distancing and limited social gatherings, I've revised my mom's recipe for just enough portions for you and your family.
Ingredients:
1 pre-made pie crust
2 eggs
½ cup brown sugar
1 tsp. vanilla extract
1 tbsp. melted butter
1 cup chopped pecans
1 cup corn syrup
Directions:
STEP 1: Preheat the oven to 375 degrees Fahrenheit. 
STEP 2: In a medium bowl, mix the 2 eggs until fluffy and light (about 2 minutes). Add in the brown sugar and mix until the sugar is dissolved.
STEP 3: Once the sugar is fully incorporated, add in the melted butter, corn syrup, and vanilla extract until well combined. Chop up the pecans and set aside.
STEP 4: Grab a mini cupcake pan (24 sockets) and make sure to grease each socket with nonstick spray or butter so that the pies don't get stuck when taken out of the mold. 
STEP 5: Then take the pre-made pie crust and cut out circles to place in each socket. Press down the dough so that a little bit of the dough is peeking out overt the socket edges. 
STEP 6: Place the chopped pecans inside each socket so that it's about halfway filled. Then add a tablespoon of the filling over the pecans. The mix will rise in the oven, so be careful to not overfill the mini pies.
STEP 7: Place into the oven and bake at 375 degrees Fahrenheit for about 20 minutes, or until a toothpick inserted comes out clean. (If you insert the toothpick and some filling clings to the toothpick, then that means the pies are not fully cooked yet.)
STEP 8: Once it's baked, take it out and let it cool for about 10 minutes. Then carefully take them out of the mold and enjoy!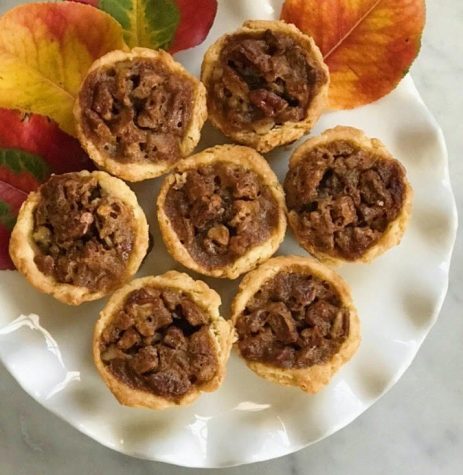 Leave a Comment
About the Contributor
Amber Kim, A&E and Foods Editor
Senior Amber Kim is an avid reader/foodie. This is her third year on staff, and she can't wait to share about local eateries that peak her interest; alongside...