Three Seniors, Staff Members Vie for Mr. Brea Crowns
Instead of walking across the PAC stage, this years' Mr. Brea contestants will stride across the audience's mobile phone and computer screens.
Due to the COVID-19 pandemic, this year's annual Mr. Brea competition will be held in a virtual format on IGTV at @bohs.asb and @breaolindahighschool from March 8 to 12.
This year's theme is "Mr. Brea, the Series" and will involve daily six-minute videos for each section of the pageant. 
Contestants were selected through a formal voting process by the senior class, who voted for finalists from a list of all the boys in the class of 2020.
The three senior boys chosen as Mr. Brea contestants are Owen Siglin, Zachary Hirose, and Wilton Diep. The three staff members vying for the crown are Curtis Hoier, math teacher, John Lindell, science teacher, and Henry Johnson, boys' basketball coach.
Contestants will be judged by two anonymous staff members, one former Mr. Brea winner, and a BOHS alum.
Categories include an introduction, interviews, a formal walk, and talent. (Typically, contestants also participate in a group dance and swimsuit competition, but these categories were eliminated this year due to restrictions on in-person gatherings.)
Each day of the week will be dedicated to a certain segment of the whole performance. Videographers Joel Corral, senior, and Michael Galentine, sophomore, assembled the episodes with Gracie Johnson, junior, hosting this pageant.
Kara Dietz, ASB Co-Advisor, helped organize the event. She is "proud of the contestants for following through and representing their senior class and our school," and hopes that members of the BOHS community can enjoy the show through the virtual platform. 
This week's schedule of events, which begins tomorrow:
Monday: A video of each contestant's baby photos and five questions to get to know the candidates' interests, hobbies, and personalities.
Tuesday: Contestants present their talents through pre-recorded videos.
Wednesday: The senior candidates will demonstrate their formal walk, with commentary on what extracurricular activities they are involved in.
Thursday: This segment will test contestant's abilities to think critically under pressure. The judges will pull random questions out of a mug and assess the responses.
Friday: An Instagram post will announce the winner of 2021's Mr. Brea Senior and Mr. Brea Staff Member. 
"Mr. Brea has been a tradition at Brea for the past 20 years and we didn't want to break [it] without giving it a shot," Olivia Swindle, junior, and Mr. Brea commissioner, said. She added, "The boys deserve the love and support," and encourages the student body, faculty, and families to "tune in" to the Mr. Brea pageant.
Leave a Comment
About the Contributor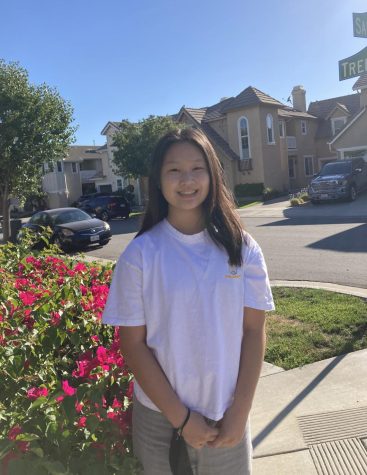 Ellen Kim, Editor-in-Chief
Ellen Kim, junior, is enthusiastic about starting her second year in the newspaper team as a staff writer. At school, Ellen is a part of many clubs including...