Indulge in Delights at Knott's' Taste of Boysenberry Fest
Boy, does the Wildcat love boysenberry!
Until May 2, Knott's Berry Farm is hosting its annual Taste of Boysenberry Festival, where over 65 boysenberry infused items will be available for berry enthusiasts to sample. The Wildcat made a day of the family friendly and COVID-19-safe event to discover the best foods featured, so if you plan on attending, you know exactly which offerings will leave you feeling berry satisfied.
---
Bao Buns with Boysenberry Soy Sauce 
Contrary to traditional Chinese bao with fluffy white buns  filled with pork, Knott's Bao Buns are deep fried, doughy, and filled with pork drenched in boysenberry soy sauce. The overall taste was a mix between sweet and salty with the bun tasting more like a fried donut than the fluffiness of traditional bao. The soy sauce throws off the flavor of the pork making it overly salty, while the breading is too sweet making it taste more like a dessert than a savory dish. 
---
Boysenberry Waffle Bites with Bavarian Dipping Sauce
The boysenberry Waffle Bites with Bavarian Dipping sauce have a vibrant purple filling that tastes exactly like boysenberry and funnel cake mix. They are crispy and dusted with powdered sugar on the outside, while having a delectable soft center. What made this dish is the Bavarian dipping sauce. The sauce tasted like vanilla pudding and is the perfect addition to the already tasty waffle bites. The only thing that could make this dish even better is a fluffier texture on the inside of the waffles, as they were a bit dense.  
---
Boysenberry Elote
The Boysenberry Elote lives up to its reputation as a festival classic. With a grilled sweetcorn as the base, covered with boysenberry butter, then topped with cotija cheese and boysenberry bread crumbs, its delicate balance between sweet and savory makes it the perfect mix of flavors. The first bite is truly mouth-watering. The boysenberry butter melts in your mouth along with the corn itself. However, the taste of boysenberry itself wasn't too prominent in this dish.
Boysenberry FunBun
This dessert's name is misleading as one would expect a "fun bun" to be a donut with boysenberry filling, but it is the total opposite. On the outside, the fun bun appears to just be a donut made out of funnel cake topped with boysenberry icing and powdered sugar. However, once you cut into this "fun" bun, you see its real appeal — a deep-fried cinnamon roll. Unfortunately, the roll is too sweet and is overpowered by cinnamon spices. Although this treat is visually pleasing, it is way too sugary.
---
Veggie Sliders with Pretzel Bun and boysenberry Aioli 
The Veggie Sliders with boysenberry Aioli were the perfect savory food after trying such a sweet dessert. The Veggie patties lay on top of sliced potatoes, covered in a delicious boysenberry aioli sauce, and wedged between a fluffy pretzel bun. The veggie patty is a tasty blend of carrots and zucchini. Although the veggie patty was good, the boysenberry Aioli is what really made this dish so unique. It was the perfect blend of boysenberry and mayonnaise, creating a mouth watering spread for our sliders. 
---
Philly Cheese Steak Fries with boysenberry Caramelized Onions
These fries are a perfect boysenberry take on the Knott's classic "Mexican fries." The thin-cut salty fries are placed neatly in a bowl topped with melted provolone cheese, boysenberry caramelized onions, and sliced steak. When the ingredients are mixed together, The taste of onion and boysenberry blended perfectly together, which is really what made this dish. 
---
Red Concha with Boysenberry Ice Cream
This concha catches the eye with its bright red coating and pretty lavender-colored insides of boysenberry ice cream. The ice cream isn't too sweet and has mellow flavors. The concha is a bit dense, but it is the perfect vessel to hold the ice cream in between, making it a sort of ice cream sandwich. 
---
Chocolate Chip Pizza Cookie Slice, topped with Boysenberry Ice Cream and Chocolate Sauce
This chocolate chip pizza cookie slice with boysenberry ice cream and chocolate sauce is just warm enough to slightly melt the ice cream, making the soft serve blend extraordinary with the cookie slice. Although the cookie itself was to die for, the boysenberry ice cream that topped it wasn't as fruity and creamy as the one inside the Red Concha.
---
Chicken Tenders with Boysenberry Aioli Sauce 
To start, these chicken fingers were a bread delicacy. They were crispy on the outside while juicy and full of flavor on the inside. The boysenberry aioli sauce had a beautiful light purple pigment and extraordinary taste. It was very sweet and savory, blending perfectly with the breading from the chicken strips. This was our favorite savory meal of the day.
---
Boysenberry Basil Lemonade 
The boysenberry basil drink was actually quite bitter but all in all delicious. This boysenberry infused lemonade was the perfect combination of fresh basil leaves added in to make for a spice. It was the perfect refreshment to end a day of eating.
---
The Taste of Boysenberry Festival will be held at Knott's Berry Farm until May 2, so make sure to get a ticket and try out some of these boysenberry delights for yourself. 
Leave a Comment
About the Contributors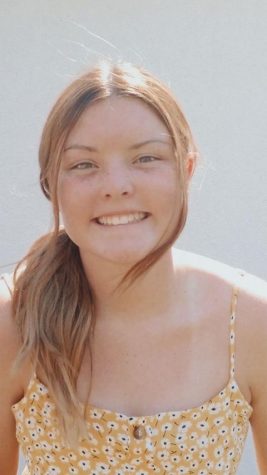 Natalie DiCesaris, Opinion Co-Editor
Natalie Di Cesaris, a junior, is excited to start her second year as opinion editor for the Wildcat newspaper staff. She competes on varsity swim and water...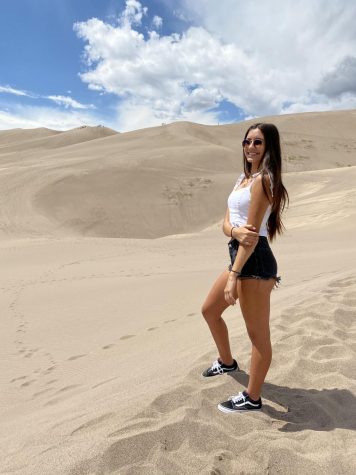 Natalie Romero, Staff Writer
Natalie Romero, junior, is thrilled to be taking on her first year on the Wildcat news staff. She has passion for traveling and expanding her knowledge...