Sounds of "Baby Shark" and the clicking of chest compressions on dummies filled room A4 at Brea Junior High on Nov. 13.
Health Occupations Students of America (HOSA) club visited the junior high to demonstrate cardiopulmonary resuscitation (CPR) and automated external defibrillator (AED) use to students in the Exploring Medical Careers classes.
Senior HOSA members Ellen Kim, Kristin Kim, and Grace Severson; junior Kaitlyn Song; and sophomore Christine Kim began the class by introducing implications of sudden cardiac arrest (SCA) and what to do after identifying an unconscious patient.
"I think awareness is the most important thing when it comes to being prepared for medical emergencies. It was really fun teaching the junior high students, and having this knowledge will definitely help them in the future," Severson said.
After the lecture, students and volunteers split into two groups: one to learn compressions and another to practice AED pad application (two pads need to be applied at the victim's upper right and lower left chest to deliver the shock).
Some of the junior high students expressed surprise at how laborious it is to perform chest compressions. In order to supply blood to the whole body, each compression has to be two inches deep, at a rate of 100 to 120 beats per minute. (A similar tempo to the song "Baby Shark.")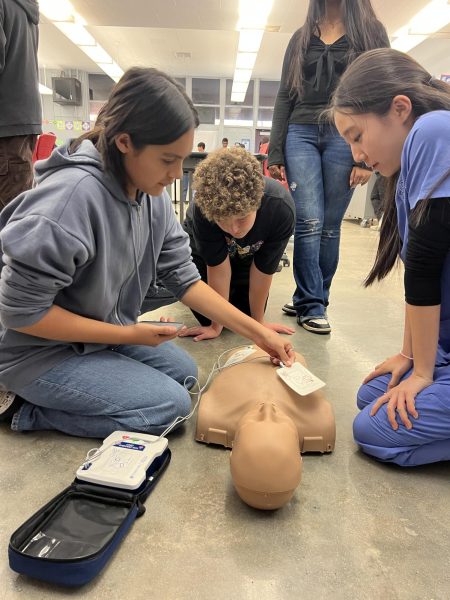 Dana Yi, 8th grader, learned how difficult it is to do compressions as he practiced on the dummy. "I had already known that people said it was tiring, but after actually trying it myself, it was a lot harder than I had imagined," Yi said.
Kaitlyn Phu, 7th grader, agreed: "The most interesting thing I learned was how hard it was to keep the same beat and making sure I was pressing hard enough while doing CPR." 
The dummy — a model of the torso used to simulate CPR and AED application — measures participant's rate and depth of compressions with two green lights (right tempo and depth), a single green (right tempo), a yellow light (too fast), or red light (not fast enough) at the shoulder.  
At the end of class, HOSA board members simulated a run-through of all the steps to save an unresponsive patient in a mock scenario.  
Adelyn Oh, 7th grader, felt that the class will better prepare her for future emergencies. "The action of performing CPR and AED was harder than expected, so I would have failed to help someone in cardiac arrest if I hadn't practiced on the dummy," she said.
"I feel a bit more confident to act if someone goes into cardiac arrest," Kendryn Salazar, 7th grader, said. "Thanks to the lesson about CPR, I know the first steps I have to do. And if there is no one available to help, I can be the one to perform it, even if I am a novice."
This is not the only time HOSA has promoted life-saving skills in Brea. Partnering with CPRitWorks, a local organization that promotes CPR and AED education, HOSA hosted a CPR certification fundraiser in the BOHS Auxiliary Gym on Nov. 4.  
With 24 participants, Debbie Medina, founder of CPRitWorks and CPR instructor, taught members of the community about the importance of these life-saving skills.
Medina encourages others to get CPR certification as it is the leading cause of death in youth athletes. "Everyone should know what to do, and those of us that are around larger populations of people have a greater risk of responding to a cardiac arrest in an emergency," she said. Doing CPR on someone in sudden cardiac arrest can triple their chance of survival.