Back(pack) to the Future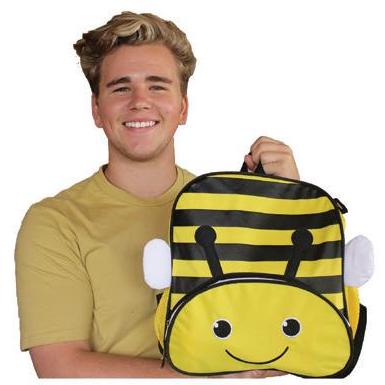 We took pride in our new brand new backpacks when we began elementary school. Whether it was our favorite show, character, or movie, backpacks were a way for us to express what we loved. For some seniors this year, childhood nostalgia is hitting them hard and backpacks featuring childhood characters like animals or favorite Disney princesses is trending at BOHS.
Why are kids' backpacks trending at BOHS? In her article "How Backpack Trends Shape a Kid's Social Life," Alia Wong stated, "Backpacks bridge the distance between school and home, shuttling homework and lunch boxes…in between the two most important places in a kid's life."
Backpacks are a constant factor in life for kids all the way to high schoolers, and backpacks like senior Tori Vega's Victorious backpack exemplifies the school/home connection. Vega shares a special connection with her backpack: the main character of the show Victorious is also named Tori Vega. How perfect is that?
Megan Coday, senior, shared that the reason behind choosing her kid backpack was based off of a childhood memory. The backpack "reminds me of a Disney Princess CD player I had when I was six and I threw a temper tantrum and I threw it at the TV and it broke and I never got to see it again," Coday said.
Walk through the quad at lunch and you'll spot backpacks displaying classic childhood TV shows such as Paw Patrol, Victorious, Bubble Guppies, Trolls, and more. Instead of choosing the ubiquitous Jansport bag, or the trendy Fjällräven Kånken backpacks, some seniors are choosing bags made for children to live out their final year of childhood before they reach adulthood.
However, some students, like Bryce Clark, senior, choose their backpacks, not out of nostalgia, but simply for fun. Clark and his friend group decided to get matching animal backpacks for their last year in high school. Senior Brian Burton chose a bumblebee bag; Brian DeFranco, senior, chose a kitten; and Clark chose a shark. Collectively, the three bags form a herd of animal backpacks in one friend group.
Burton mentioned this trend had already been a tradition for himself and his friends, originating last year with the graduating class of 2019.
According to Nadia Fox, French teacher, "It's been more of a recent situation. I've seen students in the past [with kid backpacks], but within the last one or two years, I've seen more and more kids following that trend."
On a normal school day, it is common to see dozens of students walking around with these childlike backpacks. But this trend of childhood-inspired packs seems to be unique to BOHS.
Neighboring schools like El Dorado, Rosary Academy, and Esperanza do not contribute to this trend, and a search of the hashtag "kidsbackpacks" leads to businesses selling bags, not teens sporting them on their high school campuses. (Chino Hills High School appears to be the only local high school that also participates in the trend.)
Seniors of the class of 2019 decided in their last year of childhood that they would come full circle by choosing backpacks meant mainly for children. Whether due to nostalgia, a feeling of connection to home, or just for goofy fun, BOHS's seniors are having fun engaging in this unique trend.
Leave a Comment