Acquiring a taste, of Brea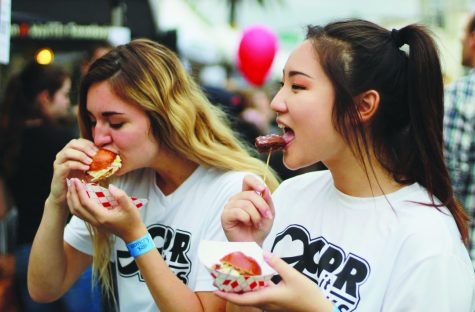 The annual Taste of Brea: Chasing Delicious was held in Downtown Brea from 5 to 9 p.m. on May 24. Hosted by Nationwide Insurance, the festival featured food booths from restaurants from Brea.
Thousands of visitors were offered samples of food and drinks, ranging from tacos from Fresca's Mexican Grill to sweets from Nothing Bundt Cakes. Local business exhibitors were amidst the food booths, promoting their enterprise to the crowd. The band, Cold Duck, provided entertainment with a lively performance.
"It was a really nice environment, and my favorite food there was the crème brûlée. When we both took our first bites, we just looked at each other and moaned because the food was so delicious. It was definitely a nice place to get a feel of Brea," Victoria Bell, junior, said.
The Taste of Brea event is famous for "showcas[ing] [Brea's] vibrant business community and city as one of Southern California's premier destinations." Taste of Brea draws over 3000 visitors by providing "exceptional dining, quality entertainment, and diverse shopping options," according to breachamber.com.
To sample local restaurants and breweries, one must purchase a wristband online. $25 wristbands were available for adults, and $10 wristbands were available for children ages ten and under.
According to Martin Oh, a visitor from Chino Hills, this event provides a chance for people to discover Brea's value. Oh was able to "experience what Brea is like through the food and other features" displayed at Brea Downtown
Leave a Comment