Wildfire Smoke Blankets Brea
The sky turned a bright orange, the sun turned a dark red, ash fell from the sky, and the world began to look more alien.
12 major wildfires — including the El Dorado and Bobcat fires, in Oak Glen and Angeles National Forest, respectively  — currently burn across the state, creating unhealthy air, but with the efforts of the state's firefighters, including Brea's Engine 302, the fires are 92% and 65% contained — and air quality is improving.
The air quality index (AQI) for Brea in the first week of September, according to IQAir, ranged from 150 AQI to over 200, which can be extremely unhealthy as pollutants can get into lungs. Currently, Brea's AQI is 41, which is "satisfactory and poses little or no health risk," according to the U.S. Environmental Protection Agency (EPA).  
Long periods of time spent outside in any form of physical activity should be limited, as respiratory irritation and worsening of previous conditions such as asthma can occur when exposed to wildfire smoke for long periods of time, according to The Centers for Disease Control and Prevention (CDC). 
Wade Cormier, science teacher, explained: "During a wildfire, pollutants and greenhouse gases such as carbon monoxide/dioxide, nitrogen dioxide, and methane,  are released into the air. Not only do these gases contribute to our respiratory system, they also trigger antibodies in our system making the body fight foreign substances. At the same time, our lungs are working harder filtering out the particulates from the wildfires. Anytime you have burning fires which increase our air pollution, the change in mix between nitrogen and oxygen in the air is disturbed which greatly affects our respiratory system."
Dr. Joshua Porter, BOHS principal, sent out a message to parents on Sept. 21 that read, "Due to the fires devastating our West Coast, we have had to cancel many of our practices as the air quality has been poor." Some of the sports affected were girls' softball, cross country, and boys' and girls' water polo. 
In an email to his runners, Bruno Morlan, cross country coach, wrote, "We've had to cancel outdoor practices when the air quality has been at an unhealthy level. It makes it difficult because due to [COVID-19] we can't have indoor practices either. It keeps us from having consistent practices. Though even in slightly better conditions, and running with a face covering the particles get into your airway. It's uncomfortable and it makes you feel like you have asthma."
Some BOHS students woke up on the morning of Sept. 7 to an orange haze and their homes covered in a layer of ash. 
Freshman Sophia San Filipo said that her backyard was blanketed by ash, and that she "was freaking out" because she thought the wildfires would reach Brea. 
Noelle Beck, freshman, said the fires were affecting lunches with her grandma with the ash "raining over our food some days." Beck said it was the only time she could interact with her and inconvenienced their time together.
But between the containment of the fires and their distance (the closest wildfire — the El Dorado fire — is 60 miles away), air quality continues to improve in Brea.
Leave a Comment
About the Contributor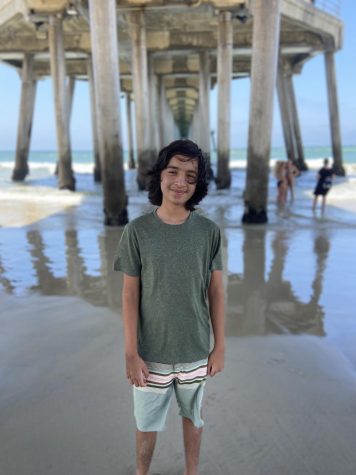 Jared Corona, Staff Writer
Jared Corona is a freshman ready to tackle his first year on the Wildcat staff. Outside of the Wildcat you can find Jared running for the cross country...