The Wildcat Asks: What is Your Favorite Autumn-themed Treat?
It's out with the fruity refresher drinks from Starbucks, and in with all things pumpkin spice for BOHS students as we enter the Fall season. With the arrival of Fall, seasonal flavors are trending again, from traditional favorites like Starbucks' famous Pumpkin Spice Latte, to the classic pumpkin pie. 
DRINKS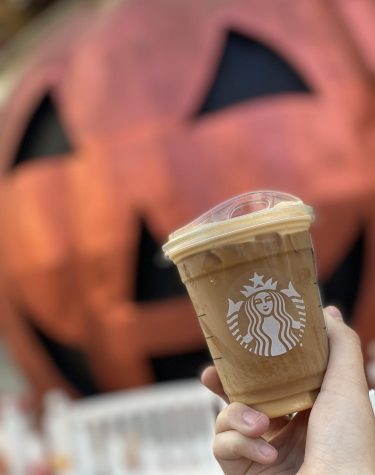 Cameron Lee, junior, votes for apple cider — with its freshly juiced apples and evident hints of cinnamon — as the best Fall drink. Apple cider is available at stores and is something that can be quickly made in the comfort of your home. 
Alicia LeDoux, junior, and Doyon Kim, sophomore, enjoy getting into the season with the Starbucks pumpkin spice latte. To accompany the spicy pumpkin drink, LeDoux snacks on pumpkin pie for a complete pumpkin-themed treat. 
Juniors Isabella Abalos and Ellie Chou, however, prefer classic, rich hot chocolate over the pumpkin spice-flavored drinks.  
Starbucks' new offering this year, the Pumpkin Cream Cold Brew, is junior Savannah Ventic's favorite drink of Fall (so far). Made with real pumpkin and fresh coffee, this drink is sure to join the pumpkin spice latte in being a popular seller at Starbucks. 
FOOD
Each season, Trader Joe's releases a plethora of pumpkin-themed foods. This year, Trader Joe's has introduced pumpkin tortilla chips, gluten-free pumpkin spice bagels, and pumpkin spice pretzels to its shelves. Amongst TJ's wide variety of pumpkin items, junior Natalie Romero's favorite Fall food is Trader Joe's pumpkin bread. 
Another Fall food favorite for BOHS students is pumpkin pie. Maren Handel, sophomore, juniors Stacy Rodriquez and Rachel Suerte, and Alberto Orozco, senior, favor this classic Fall dessert. Made with a pumpkin spice custard filling, this is a delicious treat to bake and enjoy with friends and family.
Junior Talia Than's prefers apple pie because  "that's where it's at." Manny DeBarros, junior, shares that his favorite Fall food is also pie, and it "doesn't matter what kind."
Another seasonal treat is Pillsbury's ready-to-bake sugar cookies, which come in a variety of Fall flavors. These soft treats are freshman Yesenia Cazales's favorite, as they are easy to make and "delicious." 
Juniors Tori Torres and Grace Yoon find themselves reaching for pumpkin bread during the Fall season. Some recipes even include chocolate chips, raisins, and nuts, and all can be baked in about an hour. Arianna Patel, sophomore, however, prefers pumpkin spice cake over pumpkin bread.
Junior Brianna Aldana Najm's doesn't discriminate and enjoys "pumpkin spice everything." 
As for those who don't enjoy the taste of pumpkin or Fall spices, there are always just regular Oreos with orange-colored filling or candy corn to satisfy Fall cravings. Trends co-editors Katie Kudron and Melea Altermatt both confess to preferring candy corn over pie any day, during any season. 
There is such a wide variety of possible Fall food and drinks that there is something for everyone.
Check out Food Editor Amber Kim's review of pumpkin spice-inspired drinks, and make sure to answer the poll on what your favorite Autumn treat is this year! 

Loading ...
Leave a Comment