Not Another Brick in the Wall
Physics teacher Paul Ayers, in his first year at BOHS, brings a love of science and '70s rock to his classroom.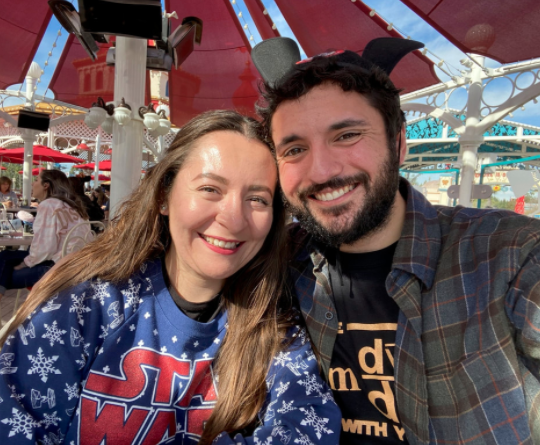 There is a bit of irony in physic teacher Paul Ayers's love of rock band Pink Floyd. One of the band's most famous lyrics, from the 1979 hit song "Another Brick in the Wall" is "We don't need no education." Ayers, you see, fell in love with learning, and about science in particular, when he was just 10-years old.
Ayers, physics and chemistry teacher, has been exhilarated by the study of the physical and natural worlds since childhood, when his father Kenneth, a Boeing engineer, brought home stories from work about building space shuttles and combat systems. Naturally, the 10-year old Ayers was fascinated by his father's tinkering with spacecraft and military hardware, and he was intrigued by the secrecy of a job that didn't allow its employees to bring phones into the workplace.
But more important than the stories his father told about the shuttles Discovery and Endeavor, Ayers was inspired by his father's dedication to his work.  "He loved his job," Ayers said.
However, competing with Ayers's interest in science was his passion for music, which was inspired by his love for the guitar and "progressive rock" bands like Pink Floyd, Genesis, and Yes. So when Ayers began his freshman year at California State University, Fullerton, he was uncertain about what he wanted to major in: physics or music.
But when CSUF made budget cuts to the music program, Ayers shifted his focus to his first loves: physics, which he excelled at in high school, and his interest in understanding how students, and people in general, understand and learn science concepts.
Selecting his major wasn't the end of Ayers's decision-making, however; he also had to choose a professional field to pursue after graduation. For a physics major, the two most common career pathways are working for an engineering company or teaching.
Ayers decided he didn't want a job in engineering when he recalled that, while he was in high school, his father's company endured budget cuts and layoffs. His father was one of the employees let go. "I realized I didn't want to work for a big corporation, just in case the economy did weird stuff now, or in the future," Ayers said.
Between his passion for physics, his interest in learning about human interaction and the brain, and his need for job security, Ayers knew that teaching was the right career pathway for him.  
Ayers was further convinced that he would be a great physics teacher because it involves math, which was his favorite subject in high school. Through teaching physics, he's immersed daily in two of his passions — science and mathematics.
"Science has taught me to try and find the facts and not make assumptions, which can be applicable to social things as well as in the classroom," Ayers said. 
Before arriving at Brea Olinda High School this Fall, Ayers taught science for four years within Montclair Unified School District.
Ayers said his favorite part about his teaching career are the connections he makes with his students. One of Ayers's favorite memories occurred during his first year of teaching. 
"There was an autistic junior male student in my chemistry class who was really shy and always sat in my classroom during snack and lunch and was very nice but didn't have many friends," Ayers recalled. Ayers said that the student was initially uncertain of his capabilities in the challenging chemistry class, but he ultimately aced the course.
"I heard him talk to [other] students, saying, 'I'm not going to college,' like he didn't believe in himself. It meant a lot to me to see he got an A in my class and gained confidence."
Unlike another "Another Brick in the Wall" lyric, Ayers doesn't "leave them kids alone," and is, instead, already making an impact on his new students at BOHS.
Katelyn Wall, junior, said she "like[s] how Mr. Ayers chooses different ways to teach, whether it be videos, notes, or labs; I think that it makes learning the material more interesting and fun."
Peter Segat, junior, said he appreciates "Mr. Ayers's willingness to answer all questions," and enjoys how Ayers "helps us work out every problem in multiple ways."
When not in the classroom, Ayers collects his favorite music on vinyl, particularly those songs and bands that ignite nostalgia for his childhood, like Pink Floyd and his all-time favorite album, Atom Heart Mother.
And although he doesn't play as often as he'd like, Ayers still strums his guitar. "Music brings me so much joy," Ayers said. 
In his first year at BOHS, Ayers is most looking forward to getting to participate in hands-on labs and projects with his physics classes and "get to know everyone in the community and the school better." 
Leave a Comment
About the Contributor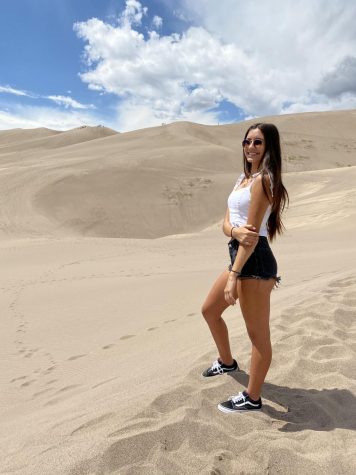 Natalie Romero, Staff Writer
Natalie Romero, junior, is thrilled to be taking on her first year on the Wildcat news staff. She has passion for traveling and expanding her knowledge...