Long Live Letter Jackets!
For 156 years, letter jackets have been a celebrated symbol of athletic and academic success. At BOHS, customized coats are as popular as ever, even during distance learning.
Despite the COVID-19 pandemic and distance learning forcing BOHS students to spend their days at home, varsity athletes still proudly wear around town the distinctive leather-sleeved, patch-adorned green and gold jackets, a long-time tradition for Wildcat student-athletes.
The tradition of the letterman jacket began in Cambridge, Mass. in 1865 when the Harvard University baseball team sought a way to acknowledge their star players for their hard work and athletic prowess. Their idea: awarding varsity players with a wool sweater emblazoned with a large "H" patch in the center of the chest. Keeping the sweater, however, was determined by the student-athlete's athletic accomplishments by the end of the season, which motivated players to work harder. The coaches called the owners of these coveted sweaters "The Lettermen." 
To further motivate players, team captains could earn embroidered stars, and each year after earning a letter, players were awarded a stripe, which was added to the sleeve to denote the number of years they played on the varsity squad.
One decade later, in 1875, the national champion Harvard football team also adopted the letterman program, awarding special recognition for their best varsity players with sweaters. 
At the turn of the century, the style changed from the itchy wool sweater to a heavier wool jacket with leather sleeves, a garment much better suited to the East Coast's frigid winters. 
Eventually, the popularity of letter jackets extended beyond Harvard's Cambridge campus; the first reported picture of a high schooler sporting a letter jacket was taken in 1911 in Phoenix Union High School's yearbook.
Today, the jackets, which have retained the wool-body-plus-leather-sleeve design, feature much more varied patches than Harvard's original letter and stars. Today's jackets feature intricate and colorful chenille patches which represent milestones and achievements such as graduation years, team captain and MVP awards, scholar athlete recognition, and league, county, and state championships.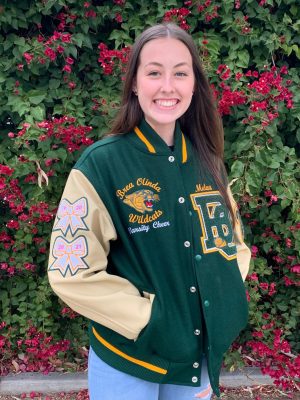 Many students purchase these jackets to keep as a memento from high school, a means for them to reminisce about past achievements.
"I bought a letter jacket to keep it as a record of what I was involved in and accomplished in high school. I think it's one of the best keepsakes to have from high school," said volleyball player Allison Fong, senior. 
Ladycat Brooklyn Kame, sophomore, said, "The jacket is a good way to remember all that I've accomplished throughout high school [from the] patches and pins." 
Earning these jackets is a goal for many athletes. Volleyball player Emma Rose, junior, said, "Making varsity was always a goal of mine [and my] jacket is a way to show my achievements. I have pride when I wear it, and I love getting to represent my school and my accomplishments."
The jackets are also fashion statements. Motivated by its style and the timeless look, golf player Evan Pascasio, sophomore, purchased his jacket "to wear it at some point during my graduation so I'd look dashing in front of my family."
The process of buying a jacket is also a part of the tradition, a rite of passage for new varsity athletes. 
"I made an appointment and sat with a [representative] to customize how I wanted the jacket to look. It was really fun!" Maren Handel, sophomore, exclaimed. Handel's custom jacket took about a month to make, and is adorned with her jersey number, 11, and a customized "Rookie of the Year" chenille patch. 
COVID-19 has created a dilemma for both varsity athletes who dreamed of owning a jacket, and for the vendors who sell the jacket (which range in price from $400 to $500).  
Due to the pandemic, student-athletes have been forced to stay at home and entire seasons have been canceled. Since he's "mostly home because of COVID-19," tennis player Andy Choi, junior, decided not to purchase a letter jacket this year.
Letter jacket vendors, like Cypress-based C&L Custom Varsity Jackets, which services BOHS student-athletes, has experienced a 50% decrease in jacket sales this year. However, Larry Westbrook, owner of C&L, said that because "a lot of teenagers are stuck at home and sad," parents of varsity athletes are still buying jackets to cheer up their children. 
The letter jacket has undergone many changes over the years, from a single "H" in 1865 to pink chenille bows in 2021, and continues to be an enduring tradition at BOHS, even in the midst of a pandemic. 
Leave a Comment