An Interview With Natalie Deporto, BOUSD Nurse and COVID-19 Vaccinator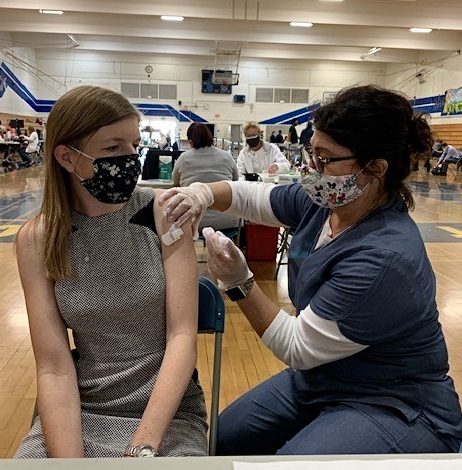 When the COVID-19 pandemic swept the planet in March 2020, Natalie Deporto, BOUSD and BOHS nurse, was forced to pivot from tending to fevers and cuts to contact tracing, developing COVID-19 precautions and health policies for BOUSD, training staff, and, currently, administering vaccines at Orange County vaccination sites.
The Wildcat interviewed Deporto to better understand her role on the frontlines of a pandemic that's still active in the Brea community.
The Wildcat: How long have you been a nurse for?
Deporto: 28 years. 17 of those years as a Pediatric Intensive Care nurse and two as a Pediatric Nurse Practitioner.
The Wildcat: How long have you been working within BOUSD?
Deporto: Seven years.
The Wildcat: How has your daily routine altered due to COVID-19?
Deporto: I have had to prioritize COVID-related duties such as contact tracing, developing COVID-19 precautions and health policies, training staff, and administering vaccines at the county vaccination sites. My regular duties are also more challenging as students are not all on campus and procedures take longer due to COVID-19 precautions.
The Wildcat: Where have you administered COVID-19 vaccines?
Deporto: I have given vaccines through the county at the vaccine "super sites" like Disneyland and also through the Orange County Department of Education at various Orange County schools where all county school staff could make an appointment to get vaccinated. We set it up in high school gyms and were open to give vaccines after school for the staff.
The Wildcat: What kind of qualifications are needed to administer COVID-19 vaccinations?
Deporto: Right now the vaccine clinics are allowing registered nurses, licensed vocational nurses, pharmacists and veterinarians to administer the COVID-19 vaccines.
The Wildcat: How do you feel about this sudden change and transition into becoming a vaccinator for the COVID-19 vaccine?
"
I feel fortunate that I had the opportunity to contribute to our community and help during the pandemic in some way. I also feel the role of school nurses was more visible to the public during the pandemic."
— Natalie Deporto
Deporto: I feel fortunate that I had the opportunity to contribute to our community and help during the pandemic in some way. I also feel the role of school nurses was more visible to the public during the pandemic. I also feel it is my role to answer questions about vaccines with accurate scientific information so people can make an informed decision about vaccination.
The Wildcat: What training did you have to go through to become a vaccinator?
Deporto: All vaccinators had to complete modules on all 3 available vaccines and a review of general vaccine administration through the CDC. We also received training at the various vaccine PODS (point of distribution). Administering shots and vaccines is part of basic nurse training as well.
The Wildcat: Have you had any students with COVID-19 symptoms visit you while on campus?
Deporto: For the most part, families, parents and guardians have been responsible and have not sent students to school ill. Students who are ill, not necessarily from COVID-19, have been to the health office. Proper precautions avoided any outbreaks from on-campus exposure. We have had students and staff who were COVID-19 positive this year, especially during the holidays. Due to hybrid, athletic restrictions and the COVID-19 precautions, these cases were from family/personal life exposure or outside of school activities exposure. Out of precaution, some small groups or activity cohorts may have had to quarantine, but I am glad to say BOUSD had no student or staff outbreaks caused by hybrid school attendance. The district has had a protocol in place for contact tracing and notifying any staff or students' guardians of any exposures that may have affected an individual student or staff member and what steps to follow.
The Wildcat: What is the protocol for when a student has tested positive for COVID-19?
Deporto: If you test positive for COVID-19 and have no symptoms, you will still need to quarantine for a minimum of 10 days and let anyone you had close contact with know they were exposed to you. Close contact is defined as being within 6 feet of someone for 15 minutes cumulative in one day. The reason COVID-19 can spread undetected is you may feel fine but still spread the virus. This is why public health mandates have emphasized social distancing and mask-wearing. If you feel ill, stay home. If you test positive, stay home and away from others. Get lots of rest, drink lots of fluids and realize that most likely you will be better in a few days. Contact your healthcare provider if you are having difficulty breathing or your symptoms persist longer than a few days. Have your parents/guardian call attendance so your absences will be cleared and if you feel well enough, you can zoom instead and not get too behind in your classes.
The Wildcat: Is there special equipment necessary if a student were to have COVID-19 symptoms?
Deporto: If a student is ill at school, all staff will take COVID-19 precautions. There are two rooms in the health office where an ill student can be isolated while they wait to go home. The health assistant and nurse have N95 masks to wear as they attend to an ill student. Gloves will also be worn to provide any care or do any health procedures. The surfaces and room will be cleaned accordingly after an ill student is in the health office. Additionally, the health office has an air HEPA filter.
The Wildcat: How did these changes affect you as a school nurse?
Deporto: I have become more organized and efficient with my time on-campus. I created Google Sheets so that I can keep track of items/duties that are outstanding due to the challenges of COVID-19 and put them in order of priority and just try to do my best. Also supervising my health assistants has been easier to track and see how they are doing remotely by using these shared google sheets documents and Zoom meetings. I also have grace for my co-workers and colleagues, and students who are all working harder and with more challenges this year. I have made an area at my home more conducive to Zoom meetings and work as well. I also tried to maintain a schedule, whether BOUSD was in hybrid learning or distance learning, to make the most of my time. I think a lot of the organization systems I put in place will continue after the COVID-19 pandemic, as I found them helpful.
Leave a Comment
About the Contributor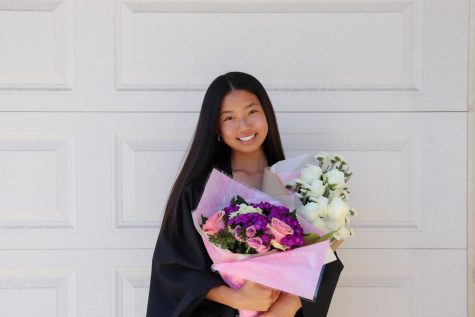 Lindsey Kim, Staff Writer
Lindsey Kim is a sophomore and is new to the Wildcat staff at Brea Olinda High School. She enjoys to travel with her family and likes to play basketball...