A Shot of Hope
Opinion Co-Editor Melissa Perez proposes that everyone who is eligible should get vaccinated against COVID-19.
COVID-19 has taken so much from us — graduations, anniversaries, friendships, and tragically, millions of lives.  It's time we finally take back what was ours by getting vaccinated.
Imagine finally taking a walk at Carbon Canyon Regional park with your grandparents after a year of not seeing them. Or hugging your friends when you run into them in the crowded BOHS hallways. This reality is closer than we think. Getting the vaccine ensures that we can do all of these things safely. 
While some are skeptical about the vaccine because of possible side effects, and a pause in the administering of the one-dose Johnson and Johnson vaccine, it's much safer to get the vaccine than to contract COVID-19. According to the Centers for Disease Control and Prevention (CDC), the most common side effects are soreness in the injection site, fever, chills, headaches, and fatigue. Compared these minor side effects with the horrible symptoms of COVID-19 such as trouble breathing, inability to stay awake, chest pain, and, for 564,000 Americans, death, taking the vaccine should be a no-brainer. 
Currently, the United States has three approved vaccines: the Pfizer-BioNTech, Moderna, and Johnson and Johnson. Over the last few months California has distributed over 23 million doses of the vaccines to healthcare workers, individuals over 65, childcare workers, and high risk individuals over the age of 16. Most recently, California Governor Gavin Newsom announced that ALL adults over the age of 16 will be eligible for the vaccine starting April 15. 
"
Imagine finally taking a walk at Carbon Canyon Regional park with your grandparents after a year of not seeing them. Or hugging your friends when you run into them in the crowded BOHS hallways."
Every time you step outside you risk contracting COVID-19, but with the vaccine you will be protected against the deadly virus. The Pfizer and Moderna vaccines have been proven to have a 94% to 95% success rate in protecting against COVID-19. By incorporating additional protections on top of receiving the vaccine, such as wearing a mask and social distancing, you will be close-to-fully "armored" to combat COVID-19. 
Orange County has finally seen a decline in COVID-19 cases and has finally reached Orange Tier. With the reopening of local theme parks and the return to four-day a week school, it's vital to take as many precautions as necessary. If we aren't safe, these reopenings can cause a spike in cases leading us right back to where we started. On the contrary if we reopen with safety measures in place — such as being vaccinated — we can continue moving down tiers and reopening more things. 
According to Dr. Anthony Fauci, director of the National Institute of Allergy and Infectious Diseases, "If you really want true herd immunity, where you get a blanket of protection over the country…you want about 75 to 85% of the country to get vaccinated." That means over 246 million Americas need to get the vaccine in order to beat the virus once and for all.  Currently, 23.4% of Americans  — 76.7 million — are fully vaccinated. One of the best ways to battle this virus is to get the vaccine and begin the route to herd immunity. 
I, like many, want this pandemic to end. I want to be able to enjoy what's left of my senior year and finally see and spend time with my family again. COVID-19 will not stop killing people and we should not allow this virus to keep hurting us or the ones we love. By getting the vaccine, you will be doing your part in ending this horrid pandemic.
View Comments (1)
About the Contributors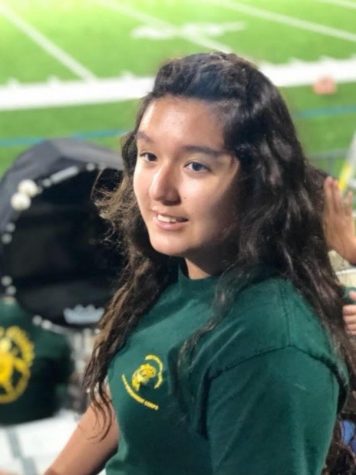 Melissa Perez, Opinion Co-Editor
Senior Melissa Perez is a first year staff writer. She is the captain of the BOHS Color Guard team and has spent the last four years in high school dedicating...
Charlize Chiang, Photo Editor
Charlize Chiang, senior, is a Photo Manager and Illustrator for the Wildcat and returns for her third year on staff. She competes for varsity tennis, and...