BOUSD Virtual Career Fair: Exploring Diverse Careers
From the daily life of a junior high principal to the tasks of a U.S. Air Force Engineer, BOUSD will present its first ever virtual career fair this week to expose students to a diverse range of career fields.
Featuring 24 unique careers, industry professionals will share the routine of their daily life, their experiences in different working environments, and describe the essential qualities required to work in the particular field.
Students can view the pre-recorded videos on the BOUSD Virtual Career Fair YouTube channel at the premiere time, 5:15 p.m, from Tuesday to Thursday or through the website. On Tuesday, a Zoom webinar meeting will act as an orientation for the virtual career fair, introducing how students can navigate the online convention, which begins at 5:00 p.m. (Students can join the webinar here).
When joining the webinar, students can expect a brief slideshow by Doyon Kim, sophomore; Megan Jansen, guidance counselor; Kim Thorsen, instructional coach; and Brandi Augenstein, career counseling coordinator; who will introduce the purpose of the Virtual Career Fair and the steps on how to view the videos.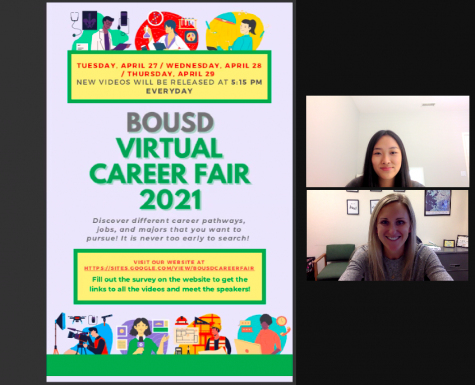 Kim organized this webinar in hopes to "bring career-based education to students of all ages" and hopes that they will "be inspired to discover and go deeper into possible fields they want to work in" through these videos. Kim decided to create this project when she noticed her friends struggling to identify their passions and set goals, stepping up to the challenge as part of pursuing her Girl Scouts Gold Award project.
Jansen helped organize the meeting and thinks that the virtual career fair will be a valuable experience because it is an "opportunity for students to learn about the variety of careers available to them," describing that the webinar is special compared to other events because a BOHS student made it come to life.
Participating schools in the virtual summit include Olinda Elementary, Laurel Elementary Magnet School, Falcon Academy of Science & Technology, Country Hills Elementary, Arovista Elementary, Brea Junior High School, Brea Canyon High School, and Brea Olinda High School.
The scheduled guest speakers and career pathways that will be shared, beginning tomorrow:
Tuesday, April 27: Nichole Pichardo (Communication and Public Relations); Kim Thorsen (BOUSD Teacher and Instructional Coach); Lyndsey Gutierrez (Small Business Owner); Tasha Iglesias (Educational Leadership and Hip Hop Pedagogy and Praxis); RJ McCasland (Union Makeup Artist for Film/TV); Design and Modeling (Brea Junior High School); Cinematic Arts (Brea Olinda High School); Global Information Technology Academy (Brea Olinda High School); Culinary Arts (Brea Olinda High School); Robotics (Brea Junior High); Construction Technology (Brea Olinda High School); Patient Care (Brea Olinda High School); and Graphic Design (Brea Olinda High School).
Wednesday, April 28: Ken McCall (Athletic Trainer); Ron Roberts Jr. (Corporate Recruiter and Career/College Planning); Lauren Barnes (Medical Device Engineer); Keith McDonald (National Account Manager); and Kelly Kennedy (Brea Junior High Principal).
Thursday, April 29: Don Crane (Financial Planning and Wealth Management); John Lindell (Science Teacher, U.S. Air Force Engineering; Business/Marketing Management); Joseph Lee (Dentist); Karin Koch (Ecosystem Director of University Lab Partners); Vincent Chou (Human Resources Director for Viewsonic); and Eric Eichinger (Boeing SoCal Technology and High School Intern Program Manager).
Verronica Clements, English teacher, was Kim's Gold Award Volunteer, and encourages all students to attend this event because it will "allow them to learn about careers they may want to pursue," and to help students gain a better understanding of other careers that they may not know about.
Kim hopes that this event will help open up opportunities to students "by providing a glimpse of what other peoples' workplace and day-to-day lives are like," and plans to continue this event every year.
Leave a Comment
About the Contributors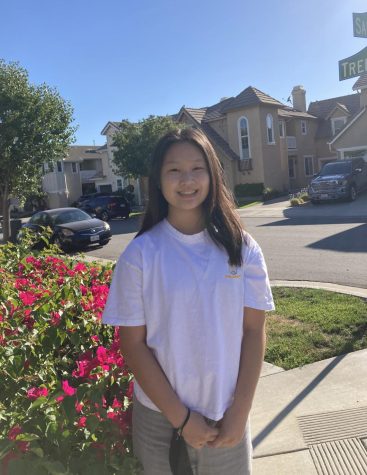 Ellen Kim, Editor-in-Chief
Ellen Kim, junior, is enthusiastic about starting her second year in the newspaper team as a staff writer. At school, Ellen is a part of many clubs including...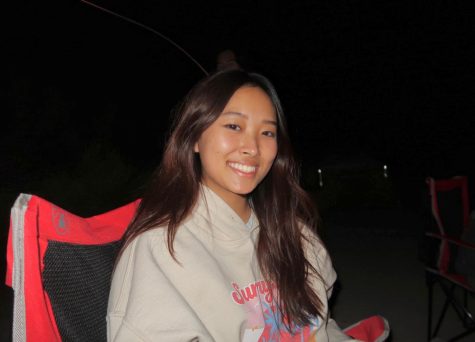 Doyon Kim, Editor-in-Chief
Doyon Kim, senior, is the Editor-in-Chief of the Wildcat, and this is her fourth and last year on staff. She loves binge-watching TV shows during her free...