The Klapp Family: Two Generations of Softball Success
Senior Kami Klapp's road to a softball scholarship to Southern Oregon University was paved by patience, persistence, and the support of mother, mentor, and first coach, Kiki Klapp.
Next Spring, when Kami Klapp, senior, is roaming the outfield of Southern Oregon University's softball field, her mind might wander to the journey that led her to Ashland, Ore., a journey that included a four-year starring role on the BOHS varsity softball team, national tournaments with the SoCal Athletics club team, and a mentally-exhausting college recruiting process.
But her road to Ashland wasn't embarked on alone.
Klapp began playing softball at the age of six when her mother, Kiki Klapp, began coaching her. It was an obvious first sport for Kami: Kami's mother played softball collegiately at Fullerton Junior College. Kiki's experience as a member of the Hornets softball team enabled her to coach and mentor her daughter in the sport, and to emphasize the importance of being a good teammate.
"My mom was a huge role model for me. Knowing she played in college, I knew she always had [my] best interests at heart," Kami said.
Understanding the effort it takes to compete at the college level, Kiki wanted her daughter to grow up in a softball environment. "I wanted her to love and play softball like I did as a young girl," Kiki said. "Usually, dads coach their kids, but I knew as a mom with experience in the sport, I could do it also."
Throughout Kami's elementary school years, softball was mainly a hobby that helped her forge a bond with her mother, and meet and socialize with other softball-loving girls her age. She played as a seventh grader at Brea Junior High, but stopped for a year to give another sport, soccer, a try.
But softball was her passion, and the summer before she entered BOHS, she was committed to not just playing, but playing at the highest level.
In the summer of 2017, Klapp went to a three-day try out for the Wildcats softball team, a try out that would determine which team Klapp — junior varsity or varsity — would begin her high school softball journey on. Klapp, along with five other freshmen, made varsity.
"Once I hit high school it was softball and softball only. I really missed it. I missed the friends, the game days, and I just had more fun playing it. I knew I had a better chance going to college for softball than soccer, " Klapp said.
"
Usually, dads coach their kids, but I knew as a mom with experience in the sport, I could do it also.
— Kiki Klapp
Klapp's freshman year was filled with both anxiety and determination as she learned to play with, and against, older athletes. "We practiced everyday for [two to three hours]. We were also playing against girls that [were] already 18, so it definitely took some time to adjust to playing with older girls."
Klapp was also competing on a varsity team that has a long tradition of producing high-level college players, like Jennifer Esteban ('09) who played shortstop at the University of Louisville; UC Riverside's Meagan Esteban ('12); DePaul University's Maranda Gutierrez ('17); and Team USA member and Olympian Aubree Munro ('12).
But Kiki Klapp was always there as Kami's support system. "My mom never missed a game. She always supported me and was a big reason my confidence went up," during her freshman year, Kami said.
Also bolstering her confidence was her involvement with the Firecrackers, a high-level club team that competes nationally. "[The Firecrackers] was the first team that got me going and helped me find the passion to play in college because I found a family in that team and it was the first team I really showed self-improvement," Klapp said.
As the recruiting process creeped closer during her sophomore year (college coaches may begin recruiting on Jan. 1 of an athlete's junior season), Klapp decided it was time to join a team that would help her get noticed by colleges. Klapp left the Firecrackers for SoCal Athletics after meeting their coaches at an outfielders class she attended.
"This team made me so much better and gave me more confidence to reach out to coaches and get noticed more," Klapp said. SoCal Athletics provided the tools she needed to better navigate the college recruitment process, including tougher training, a highly-skilled roster of players, and a more competitive travel tournament schedule.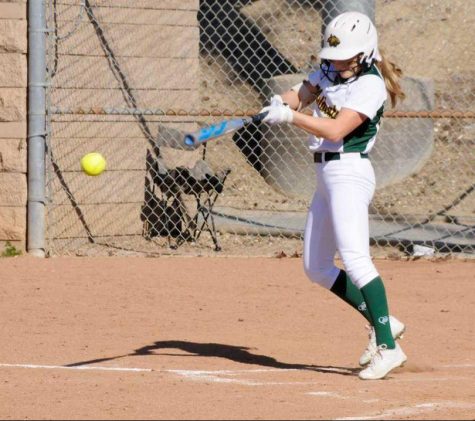 As a freshman, Klapp joined a varsity squad that had went 16-12 overall, and 2-5 in North Hills League play, the previous year. Although the Wildcats struggled to a 7-20 record during Klapp's first season with the team, she appeared in 23 games, and managed six hits, eight runs, and a pair of runs batted in. Humble stats for the rookie Wildcat outfielder.
Just one year later, however, Klapp would emerge as one of the county's top players as she led the Wildcats to a 13-13 record behind her .351 batting average on 26 hits, 13 runs, 15 RBI's, and a team-high three triples. Klapp would cap the year with North Hills All-League recognition, and interest from college softball programs.
Like many high school athletes across the country, Klapp's junior year was the most difficult as schools and sports shut down due to the COVID-19 pandemic. The Wildcats' season was cancelled after just six games, and a 4-2 record.
But it wasn't just the season that stalled. Just as Klapp was generating some interest from colleges, the recruiting stalled, too. But Klapp wasn't dissuaded. "[Quarantine] made getting the attention of college coaches harder, but it made me more dedicated to make sure I was seen."
During the summer of 2020, with some states still allowing and hosting athletic competitions, Klapp traveled with her SoCal Athletics team to recruiting tournaments in Oregon, Nebraska, and Texas.
But as her senior year quickly approached, her anxiety spiked when she felt like she was running out of time.
"The recruiting process was definitely long and hard," Klapp admitted. For Klapp, the most difficult part of her softball career in high school was overcoming the temptation to give up due to the pressures and year-round commitment of the recruiting process. "Seeing so many girls get committed [to college teams], it seemed like my work wasn't paying off, which caused a lot of stress and really affected me mentally," Klapp said.
But just as she was there when Kami took her first swing of a bat when seven-years old, Kiki was there to support her daughter during the grueling recruiting circuit.
"When traveling with Kami, I was a support person, making it fun as much as I could, as she did all the hard work showing coaches what she could do," Kiki said.
What Kami needed was emotional support, and her mother became a reliable shoulder for her to lean on. "There were so many times I was getting emotionally drained from the stress of finding a school and I would have alone time with my mom and just talk it out," Klapp said. "[My mom's] words and support pushed me through all of it. She has never given up on me and I am lucky to have a mom who cares as much as she does. She inspired me to stay true to who I was and ignore the negativity from others and she never failed to remind me that I could accomplish my goals, and that's exactly what I needed to get through this process."
"
Kami is incredibly hard working and dedicated. I'm so proud to see how all of her hard work has paid off with her acceptance to play in college next year.
— Kristen Dedmon, Wildcats head coach
Klapp's support system not only consisted of family, but her teammates as well. Teammate Sarah Mikami, junior, said, "[Kami is] not only a great player but is a great role model for the younger players like me. Her work ethic and attitude have definitely encouraged me and my teammates to be better players."
"[Kami] is incredibly hard working and dedicated. I'm so proud to see how all of her hard work has paid off with her acceptance to play in college next year," Kristen Dedmon, softball head coach, said.
After years of countless tournaments and camps, emails and game film to college coaches, out-of-state travel, a season interrupted by a pandemic, and a senior-year injury, Klapp was offered an athletic scholarship to Southern Oregon University.
"SOU felt like home," Klapp said of her decision to join the Raiders.
Klapp accepted her scholarship offer from SOU at the beginning of 2021, and was relieved that the recruiting process was finally over. This season, Klapp was finally able to focus solely on the Wildcats' season. In an injury-shortened campaign in which the Wildcats finished 6-14 overall and 1-5 in league, Klapp had four hits, two runs, and an RBI.
As graduation for the senior looms this week, Klapp is already thinking ahead to SOU. "My ultimate goal is to have fun, but also stay competitive and play as hard as I can. I want to form relationships with my teammates and feel like I've met a family on the field. I want to get the most out of college and go out of it knowing that I had the best time of my life," Klapp said.
Post-college, Kami hopes to coach youth softball and become a role model and mentor to players, in hopes of inspiring young girls, just like her mom inspired her.
Leave a Comment
About the Contributor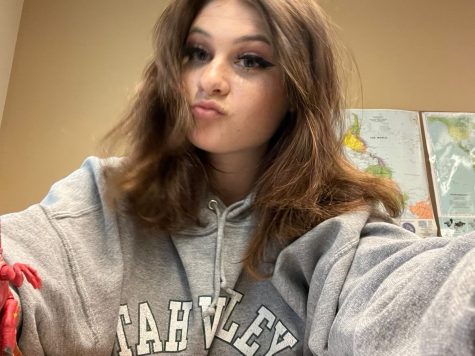 Cheyenne Arredondo, Staff Writer
Freshman staff writer. Favorite color is purple and I love Halloween.