Football Season Opener Canceled Due to 'COVID-19 Protocol'
Wildcats varsity football will have to wait one more week to begin its defense of its North Hills League championship as tomorrow's scheduled opponent, Sonora High School, was forced to cancel.
According to Robb Perrance, Wildcats varsity football coach, the Raiders "had to cancel the varsity and JV games due to COVID-19 protocol that resulted in a majority of their players not having the required amount of days of practice prior to playing in a game."
The Official Football Rules of the National Federation of State High School Associations states, "There shall be no football games until the squad has had 14 days of practice before the first game." 
Aidan Arnold, senior, and outside linebacker, expressed disappointment when the cancelation was announced as he was looking forward to "being back from COVID-19, having only five games [of] a real season, and the student section cheering at home games." 
The varsity Wildcats' new season opener will be against Valencia High School on Sept. 3 in Wildcat Stadium. 
Despite the delay, the athletes remain optimistic.
"We're still looking forward to next week, because we can't slow down or else it'll just mess up our momentum," Bryan Armas, senior, and outside linebacker, said. "We look at it as an opportunity to improve."
Emilio Gonzales, senior, and defensive end, said, "We're a game behind now so it can be harder for us to get back." But according to Gonzalez, the cancelation has a silver lining: "[It's] one less game we've got to worry about getting injured."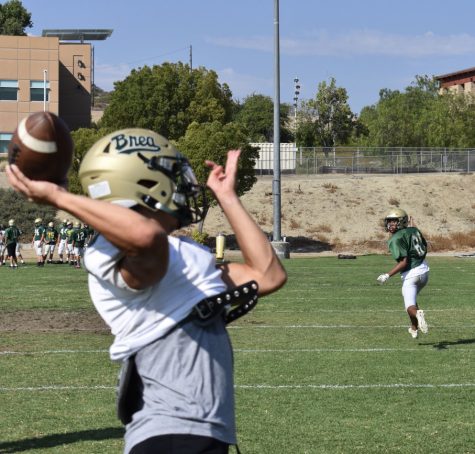 Arnold concurred: "Being a game behind, some teams have already played two games, and we haven't played one yet, so that's definitely a setback for us. But having this extra time to prepare will be good for us."
Last season, in a COVID-19-shortened campaign, the Wildcats finished with an overall record of 3-2, and 3-0 in North Hills League play. Varsity capped the season with a 27-0 victory over El Dorado High School.
Expectations going into this season are high, as the Wildcats return senior quarterback, and reigning North Hills League Offensive MVP, Justus Thongphrachanth, who threw for 1,093 yards and 10 touchdowns; and Aidan Arnold, senior, who notched 47 solo tackles last Spring and was named North Hills League Defensive MVP. Both Thongphrachanth and Arnold were named to Orange Country Register's "Hot 150: Orange County's Top Impact Football Players" list, with Thongphrachanth praised for his "excellent arm," and Arnold called "one of the hardest hitters in the county."
The cancelation of the game also affects the many programs that support the football program.
Ken McCall, BOHS athletic trainer, has been treating all of the football players since the start of practice in the summer. "The athletes are looking forward to a regular season even though it might get cut short by a couple of games," McCall said.  "They have some unfinished business to take care of because they were the league champions, but there were no CIF playoffs in the Spring."
McCall's athletic training student interns are also looking forward to watching the season opener from the sidelines, at the ready to treat injured players. 
Dahlia Chavez, Dance Production Co-Captain, was looking forward to Friday's game, but is enthusiastic about the Sept. 3 contest against Valencia. "The games give us a sense of unity with our school and [Dance Pro] dressing up together, [and] looking up and seeing The Den with the student section cheering for us," Chavez said.
Armas sees the cancellation as an opportunity to overcome adversity and the challenges that come with navigating COVID-19, and he's ready for the Sept. 3 showdown with Valencia: "Being a part of the team means we have to put on a show so we can represent."