Rally 'Rings' in New School Year
Ever since COVID-19 hit, the high school experience has been anything but normal for Brea Olinda High School faculty and staff. But this year, with a full student body on campus, the annual activities and traditions are returning, starting with an ASB-organized, in-person, Olympics-themed rally held in Wildcat Stadium on Aug. 27. 
Garrett Brookman, senior class president, said the theme of the rally came about because of this summer's Olympic games in Tokyo, and ASB thought the event would be a good way to generate excitement about the rally and inspire school spirit.
Students were encouraged to wear the colors of the Olympic rings — freshmen in blue, sophomores in green, juniors in black, seniors in red, and staff and faculty in yellow.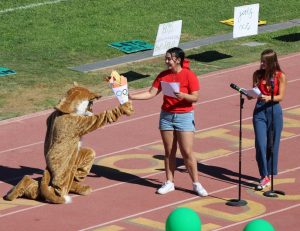 The rally included three games – Chariot Racing (where students dragged their classmates across the football field on a blanket); "skiing" (four students from each class strapped to two boards who attempted to move across the field); and dodgeball. 
Students, grouped by class in the stadium stands, cheered on their classmates. Victories in rally games earn points for their class in the traditional year-long contest between grade levels.
Christine Kelly, math teacher, said the skiing game was her favorite part of the rally because it was "hilarious" and "it was funny to see the kids problem-solve." 
For junior Elyse Reed, "getting to cheer for [her] grade," during the competitions was one of the highlights of the rally.
Masquerade, Dance Production, cheer, and band were each showcased at the rally. 
Freshman William DePorto, who performed with Masquerade, said he was enthusiastic about his group's performance of the "National Anthem" because it was the choir's first live performance in two years.
Dressed in black, green, and gold jerseys, Dance Production performed to a mix of up-tempo songs in a routine choreographed by dance captains, Katie Kim, Zoe Mah, and Dahlia Chavez, seniors.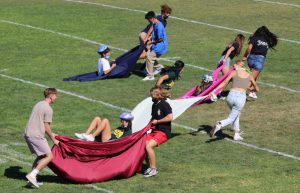 Toward the end of the rally, ASB members held signs and turned them around to reveal the word "Hollywood," this years'  Homecoming theme. (This year's dance will be held at the Yost Theater in Santa Ana on Sept 23.)
Along with performances, games, and announcements, Spring varsity sports teams were announced. Athletes from girls' tennis, boys' water polo, and girls' golf, plunged through banners emblazoned with their team names. Each teams' seniors were also introduced. (The football teams will be announced at the Sept. 17 Homecoming rally.)
The rally came to a close with the Wildcat mascot handing a paper Olympic "torch" that had traveled across the BOHS campus the previous week, to Nina Corral and Gracie Johnson, seniors, to mark the end of the rally.
As the last first rally for the senior class, Samantha Dizon, senior, thought it was "very bittersweet, because last year we didn't really have any rallies as a junior." Dizon added that she is "excited for more." 
Freshmen were also enthusiastic about the rally. Despite the traditional upperclassmen chant of "freshmen suck!" (more muted than usual due to the outdoor setting), Niko Yamamoto, freshman, said, "I thought it was a positive experience getting to experience my first rally." 
By the end of the rally, Olivia Swindle, senior and ASB vice president, wanted students to feel "refreshed" and ready for the school year. 
The next rally, on Sept. 17 in a location still to be determined, will cap Homecoming Week and will announce this years' Homecoming Court. 
Leave a Comment