UCB Sings New Song With New Choir Teacher
From memorizing all of the songs and lines of dialogue from her favorite movie musical, Hercules, to singing '80s hits with her parents and siblings, it's not surprising that Molly Gooch would one day lead the choir programs at Brea Olinda High School and Brea Junior High. 
It was Gooch's family that ignited her passion for music.
One of Gooch's fondest memories is spending time with her siblings — Erin, Kevin, and Owen — and her parents, in the living room of her home in Los Alamitos, singing and dancing to '80s pop music and her parents' favorite rock band, Journey.
"I loved having [my family] sing and dance around the house with me," Gooch said.
Gooch's mother, Rachel Gooch, inspired her daughter with her singing. It was a nursery rhyme her mother created about her name, Molly, and her "golden hair" that compelled Gooch to share her love of singing with others.
Gooch's mother further inspired her daughter by often volunteering for choir team and school events.
"My mom was my biggest role model because she could do it all," Gooch acknowledged.
Gooch took her first step into the world of competitive singing and dancing when she joined the Advanced Show Choir ensembles at Oak Middle School in Los Alamitos, and then competed with the SoundFX and SoundTrax show choirs at Los Alamitos High School.
Throughout her seven years of Broadway and pop music-themed choir shows, one of her favorite performances was to a song by the pop-rock band Evanescence. Gooch was inspired by the "frantic" and moody choreography, which she had previously never experienced in performance before.
"
There's a lot of talent she's bringing to the table and I think that's going to really motivate [us] to do better. "
— Anjin Teal, junior
But as much as she loved her competition experience, Gooch also had an affinity for the sciences and "had aspirations of becoming a marine biologist or a chemistry teacher." But after taking an AP Chemistry class and realizing that it was too challenging, she returned to her true passion — show choir.
Gooch attended Cal Poly San Luis Obispo — her parents' alma mater — to pursue a Bachelor's degree in music. ("I applied to music schools right after high school and I always knew that I had a knack for teaching," Gooch said.) The campus was already a familiar place; she'd fallen in love with the region's green hills during family road trips to the spot where her parents first met.
After graduating and teaching general music to third-grade students across the Newhall School District in Los Angeles, Gooch realized an even deeper love for singing and teaching. The free time she had during the pandemic prompted her to earn a Masters of Art in Teaching, which she finished virtually last summer at Longy School of Music of Bard College. It was Gooch's "proudest moment."
Another lesson that Gooch learned from her mother: "You get out of it what you put into it." It was a lesson that Gooch took to heart as a teen when preparing for choir shows, and it's a lesson she abides by and passes along to her students in United Choirs of Brea (which consists of the Thundercats, Tiffany's, Spellbound, Chamber, and Masquerade choir programs).
Gooch instructs her performers to have more "pizzaz," to produce cleaner choreography, and to ensure that their respective choir sections are harmonious.
"As long as they practice hard, their hard work will show on stage," Gooch said.
Gooch has already made a positive impact on the choir program.
"She's been bringing in a lot of new choreographers and a lot of cool, different songs that we haven't really been exposed to,"  Anjin Teal, junior, and co-president of Masquerade and Tiffany's, said. "There's a lot of talent she's bringing to the table and I think that's going to really motivate [us] to do better." 
Elyse Reed, junior, and co-president of Tiffany's, said of her new choir teacher, "She's super sweet so it's really easy to talk to her. She's very open about what she wants while listening to what we want, so I feel like we work together really well." 
That atmosphere of openness and collaboration is partly developed during class, when Gooch and her students play a game which involves students yelling "connection" when they discover another student who shares their hobbies and interests. According to Rebecca Park, junior, the game helps students "feel more connected with peers" and creates a "friendly and energetic atmosphere."
Gooch's objectives for the year are straight forward.
"I really want the show choir program to grow. I think that the program has a great structure already, but I want it to have a bigger presence on campus. I also want more people to join and to have more students be involved in our shows," Gooch said. (UCB makes its 2021 debut on Sept. 30 and Oct. 2 at the annual Fall Magic show in the Performing Arts Center.) 
Gooch hopes that the passion she has for show choir, a passion ignited by Hercules, '80s rock, and her mother's support, is evident to her students. She aspires to be the mentor that her mom was for her, and she looks forward to promoting a culture of acceptance and excellence in the BOHS show choir family.
Leave a Comment
About the Contributors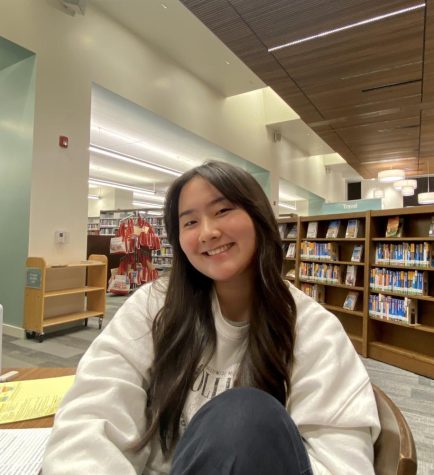 Jasmine Youn, Feature Editor
Jasmine Youn, senior, is excited to be back with the Wildcat newspaper this year! Being feature editor, she manages, produces, and edits feature stories...
Diana Lee, Photographer
Diana Lee, junior, joined the Wildcat Staff in 2020-2021. She enjoys taking pictures of trips and fun times to look back on for memories. She spends her...