Heroes 'Assemble' for HoCo Rally
It was one of the "best rallies we've had so far," Nina Corral, senior, and Pep Commissioner, said after the Homecoming rally in Wildcat Stadium on Sept. 17.
Laci Armenta, sophomore class president,  acknowledged the rally's energy and student and teacher involvement. "We got a lot more participation for the games than usual, so it was great to feel the excitement and spirit," Armenta said. She was also impressed by ASB's effort:  "Everyone in ASB was rushing around with the teachers; so actually seeing everyone work so hard was pretty impressive."
The student game, "Race Down Hollywood Boulevard," involved 200 students — 50 in each class — who lay in grade-specific rows on the football field, propelling teachers gripping inflatable mattresses to the finish line. The senior class, and Kurtis Chan, physics teacher, won the game.
A frenetic game of teacher musical chairs followed, with Bryson Burns, history teacher, narrowly beating Omar Barcenas, Spanish teacher, in the last round. 
"
Seeing everyone work so hard was pretty impressive."
— Laci Armenta, sophomore
The rally also included performances by BOHS's performing arts programs.
Catherine Chiu, junior, and Dance Pro member, said, "Being a part of the rally was very memorable for me, especially because I was able to dance with a partner and take part in a yearly tradition." Dance Pro, accompanied by members of the varsity football team, performed a dance that the dancers and athletes had rehearsed in the weeks leading up to the rally.
Each academic department put on show with a unique theme. The science department adopted a "Baby Shark" theme, as teachers in shark costumes danced to the ubiquitous song and students followed along in the stands. The history department lip-synced to Hamilton songs while dressed in historical costumes and white wigs. 
The traditional teacher skit featured staff and faculty members — like Wade Cormier, science teacher, as Captain America; Paul Ayers, science teacher, as Hulk; and Anthony DeLeon, math teacher, as Thanos — performing an Avengers-themed skit. (Spoiler alert: Thanos was defeated.)
Surprising and energizing the crowd was an appearance by the 501st Legion, an international fan organization that features meticulously recreated costumes from the Star Wars universe. Rob Stelmar, counselor and 501st Legion member, invited local members to attend the rally in their Star Wars costumes.
At the end of the rally, Homecoming princess nominees performed a short dance with their escorts, inciting cheers from the crowd. 
Sam Dizon, Homecoming queen, escorted by Noah Gonzalez, senior, reenacted the "A Lovely Night" scene from the musical LaLa Land. Their performance was a hit. "All the support has been so nice, and I'm still taking in all of the wonderful things that were said to me."
The atmosphere of the rally was very "emotional" for seniors like Gracie Johnson. "I was very excited, but also sad, because it was my last Homecoming rally," she said.
Karis Choi, junior, said, "This rally definitely brought the school spirit. It was a great way to kickoff the Homecoming game and dance."
Leave a Comment
About the Contributors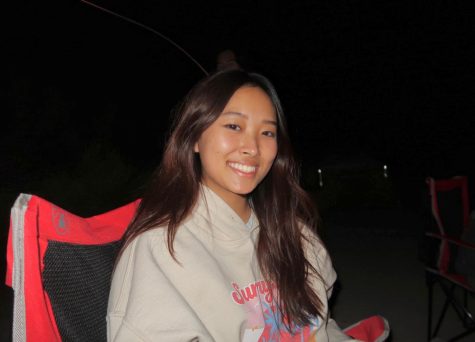 Doyon Kim, Editor-in-Chief
Doyon Kim, senior, is the Editor-in-Chief of the Wildcat, and this is her fourth and last year on staff. She loves binge-watching TV shows during her free...
Alexis Alexander, Photo Manager
Alexis Alexander, senior, is one of the Photo Managers on the Wildcat. She has a strong passion for taking photos and telling stories through her pictures....