As the sun sets on the Los Angeles horizon, the countdown on the SoFi Stadium screen elicits a rising crescendo of 70,240 screams. 
Five. 
Four. 
Three. 
Two. 
One.
The stage darkens and the first notes of "Miss Americana and the Heartbreak Prince" emerge from the venue's towering speakers. Suddenly, we're on our feet and alive,  our wrists aglow and pulsing with light-up bracelets.  
At the appearance of Taylor Swift, at center stage and clad in a sparkling bodysuit, a deafening roar fills the 3.1 million square feet of stadium. A fan's voice is no longer their own -– it is a collective voice, part of a community that reveres the headliner on stage.
After experiencing first-hand the three-hour-long, ten-album-spanning performance that was the Eras Tour Concert on August 3 at L.A.'s SoFi Stadium, I know now what makes Swift's globe-spanning tour such a unique experience, and why it's predicted to be the highest-grossing tour to date: Swift's united fanbase, and the 33-year old pop star herself.
•••
The community of "Swifties" was as much a part of my concert experience as Swift was. Even before Swift stepped on stage, ticket holders had made plans to further enhance the Taylor Swift concert experience. Through the fanbase's online presence on platforms like Twitter and Tumblr, they created traditions — like timed chants and clapping in unison — that every show attendee could partake in. For the Eras Tour, Swifties revived these traditions, and even took them a step further by encouraging personal connections between concertgoers through the making and trading of bracelets that sport meaningful lyrics among the colorful beads.
When Taylor sang "make the friendship bracelets / take the moment and taste it" in "You're On Your Own Kid," for instance, fans like Sophia Torosyan, sophomore, who attended the August 5 show, created beaded bracelets prior to the concert, and traded them with other fans at the show. 
Initially, I was afraid my social anxiety would prevent me from trading the bracelets I had made with other fans waiting in line; but, after only an hour, nearly all 25 of my bracelets had been traded away, and my wrists were full of handmade jewelry from dozens of others.  The concert-goers' friendliness and acceptance of an awkwardly-shy me felt reminiscent of summer camp, when we'd spend evenings making friendship bracelets for the people we care about. The bracelet-exchanging was us bonding over a familiar childhood tradition, thus creating a pre-show atmosphere of warmth, acceptance, and connectedness.
Madelyn Brewer, sophomore, and day two and day five attendee, also experienced this energy. "The Swiftie community is so nice…all of the people I met [at] the concert were so sweet. [They're] such an accepting community."
•••
After trading bracelets and packing into our seats, the sunset-infused song "Cruel Summer" opened the show, its lyrics sung with fierce energy by both Swift, and her fans. The Lover setlist had an only-in-L.A. dreamy pink backdrop, a setting perfectly suited to Swift's romantic pop album.
During her "The Man" performance, Swift, in a dazzling, sparkling suit, seemed untouchable and effortlessly confident, belting out high notes while hitting steps to snappy choreography. Her tracks from Lover meld mature lyrics with vibrant instrumentals, which evoked her early days in pop and 2008's Fearless (her second full-length album), a project Swift later performed with nostalgia-fueled energy in a shimmering gold dress and ever-present guitar in hand.
Later, her tone shifted from charmingly-enamored to mature and merciless, engaging the audience with tracks from her ruthless comeback album, reputation (2017). Bold melodies, coupled with flames erupting from the stage, made Swift appear goddess-like. "Look What You Made Do" stunned the audience with flashing lights set to the hit's cutting lyrics, and the high notes in "Don't Blame Me" reminded the audience of Swift's impeccable live vocals. 
Testament to Swift's versatility, in the same three-hour timeframe, Swift performed the mournful songs "marjorie" and "my tears ricochet," both to a chorus of emotion from the crowd. Her tearful performance — detailing the loss of her grandmother, the crushing weight of betrayal, and reflecting on the loss of a person believed to be "the one" — demonstrated Swift's powerful, raw vocals. 
During the bridge in "Bad Blood" fans chanted the "you forgive, you forget, but you never let it go," lyrics that Kendrick Lamar sings on the song's remix. But the most iconic — and loudest — chant, however, was the "one, two, three, let's go bitch!" chant from the song "Delicate" that originated from a fan-made video made during Taylor's Reputation tour. 
The artist shifted through her eras masterfully, trading her powerful and energetic reputation tracklist for the youthful, dreamy songs of Speak Now (2010), then transitioning into some of her biggest pop hits on Red (2012). Singing along through all the eras were tens of thousands of her fans, a melodic reminder of the devoted community Swift has built through her music and wholesome personality.
•••
I became a fan of Taylor Swift, the person, before I became a fan of her music because I admired her level of dedication to her craft and to her fans. At the August 3 show, her care for the audience was evident in every perfectly choreographed step, in every song in her three-hour-long setlist, in every look to the audience, and especially during the moments when she expressed her gratitude in  clearly sincere monologues between songs.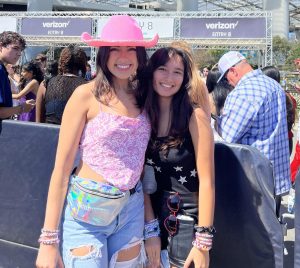 The tour is beloved because people are guaranteed a performance in which they feel connected and cared for by the artist; the entire concert is essentially a love letter to Swift's fans. She wants us to own the songs as she owns them, as she said at an April show in Houston: "These songs may have started out being about my life, but my goal, my dream, is that by the end of the night, they'll be about your life." 
At the concert I attended, the speeches and anecdotes she shared were insights into her emotions while writing the songs. Before performing "champagne problems," for instance, she shared what it felt like to lose her coping mechanism of performing due to lockdowns and canceled shows during the pandemic. For the first time that night, the stadium — filled with over 70,000 fans — fell completely silent. The audience clung to each of her words as she expressed gratitude for supporting the singer and her intensely personal songwriting. 
Swift's vulnerability in these speeches shows why her authenticity is so valued by her fanbase. She's down-to-earth, relatable, and real, a quality valued by an audience so jaded by industry-manufactured personas. While a fanbase can never truly know a creator, Swift's vulnerability — in her lyrics, but especially while live, on stage — enables her to connect with her audience and make them feel valued, known, and loved, which her fans are just as eager to reciprocate.