What was once a building full of vinyl, books, and even Halloween costumes, is now populated with certified trainers, workout machines, and a protein drink-stocked cafe.
The former Tower Records building in Downtown Brea at the Brea Blvd. and Birch St. intersection is now occupied by Ultimate Fighting Championship (UFC) Gym, which will host a soft opening for its 800 pre-registered members, then celebrate its grand opening on Sept. 16. 
The mixed martial arts (MMA)-inspired gym was founded by Mark Mastrov in 2009 in Concord, Calif. Since then, UFC Gym has grown to a global franchise with 150 locations in over 40 countries. 
The 30,000 square-foot gym, which is open 24-hours a day, boasts an in-house chiropractor, recovery room and day spa, self-defense classes, fitness programs for children, anti-bullying classes, and kickboxing sessions.
In addition to four training areas, the first floor includes a cafe which will sell protein shakes, smoothies, energy drinks, and prepared meals.The second floor boasts $3.5 million in gym equipment and a 16-foot "mega" video wall for members to view MMA matches as a community.
"The Tower building has had a long journey to finally become the UFC Gym," Dwight Manley ('84), Brea developer, and owner of 12 of the 16 properties in Downtown Brea, said. (Manley was not directly involved with the development of UFC Gym.)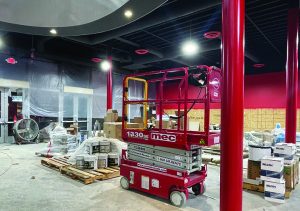 The decision to fill the former Towers Records space with UFC Gym was partly a financial decision," Slava Vilshtein, managing member and owner of Brea's new fitness space, said. "With a long term tenant with a big name like UFC, the value of the building gets 30, 40, and even 50% higher," he added.
UFC wasn't the only gym interested in the foot traffic-heavy location. LA Fitness and Gold's Gym also sought to occupy the prime location, but the property's landlord opted for UFC, according to Vilshtein. "UFC is such a different brand than the other commercial gyms, so the landlord decided to go with us," he said. Vilshtein also owns two other UFC Gyms, in Oxnard and Glendale.  
Years of failed project proposals, from hotels to libraries to drug stores, characterized the prolonged journey for a permanent tenant to occupy the building. With the exception of Halloween Club, a seasonal costume shop, the building was otherwise vacant for the past 15 years.
After Tower Records went bankrupt in 2006, the owner of the building, Mark Caplow, received an offer from Walgreens to acquire the space. However, the City of Brea sued Caplow to stop the tenant from obtaining the building because it did not comply with the approved list of business types that the redevelopment agency agreed upon in the making of the current Brea Downtown. 
Following the Walgreens proposal rejection, there was an application for a Fresh & Easy supermarket to occupy the building in 2010. Due to delivery paths for supply trucks that would cause high-traffic, the city rejected this project, too.
After a multi-level parking structure was built behind the building in early 2017, the next application submitted to the city was for a hotel by Cathedral Partners, LLC that November. The group proposed demolishing the existing building to "allow construction of a 5-story, 116-room limited service hotel with an assortment of guest amenities," Jason Killebrew, Brea's Director of Community Development, said.
Despite a "bed tax" revenue charged overnight to hotel guests that would benefit the city, two city council members opposed the construction as the hotel would have to pay additional fees to have cars parked overnight in an otherwise empty structure.
The COVID-19 pandemic cemented the termination of the hotel bid because the cost of construction skyrocketed. 
Caplow then sold the building in 2021, and the current owner, Will Tipton, partnered with Bryan Montoya, UFC Gym representative, "to build a top notch gym and bring health conscious people downtown 24 hours per day," according to Manley. 
The city's Planning Commission approved a Conditional Use Permit to utilize the building as a fitness facility on July 26, 2022.
"I've lived in Brea for almost ten years and it's nice to see something finally take up that empty space," said Sahaana Mehta, junior. Excited for the grand opening, Mehta also signed up for a membership because "they have a lot of options and you can do virtually anything there."
Manley said, "I am very happy to finally have closure, a large vacancy filled, and a wonderful business to participate in Brea's vibrant, fun, safe, and clean downtown." 
---
Correction: The article originally stated that the gym's square footage is 35,000. The correct square footage is 30,000.