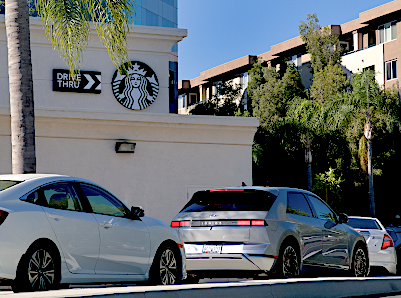 BOHS students now have another option to satiate their caffeine cravings and it's just a seven-minute walk down Wildcat Way: Starbucks's latest location, which opened on Sept. 9.
Prior to this spot, the closest Starbucks open early enough to grab a drink before school was in the Brea Plaza Shopping Center 2.3 miles from campus.
The new location, just 0.3 miles away, "makes it a lot easier to get [a drink] whenever," and "to be on time to things," Sophie Viramontes, varsity Spiritline member, said.
In addition to the convenient location, the new Starbucks features another perk: a drive thru. Only two of the twelve Starbucks locations in Brea have one. The other drive thru, at 525 Valencia Ave., is 2.8 miles east of campus, on the Yorba Linda border.
In a Sept. 21 Wildcat poll about coffee consumption, 46% of student respondents revealed that they visit a Starbucks at least once before school during the week. Most, it seems, have made the 555 Pointe Drive location their go-to spot. On Oct. 11 and 12, the Wildcat asked a dozen students who had Starbucks drinks in hand or on their desks where they purchased the beverage. All twelve had just visited the new location.  
"Our school is literally on top of a hill, [so] we used to have to walk miles to find a quick place to lounge without waiting, because honestly, nobody's going to Outback Steakhouse for a snack," Ellise Chu, junior, said. Now, Chu walks to Starbucks and back before after-school practices. Also, as a member of the Robotics team, Chu often stays at school until 9 p.m. "After meetings, my team and I can conveniently walk down to Starbucks for team bonding," she said. 
Some Wildcat athletes are also enjoying the cafe's proximity to BOHS. Going to the Starbucks "is great for after cross country practice," Layla Patel, freshman, said. During two-hour practices the athletes often run up to six miles. "I go down to Starbucks with my teammates a lot to get drinks because it gets so hot after practice," she said.
The cafe, which occupies the former Souplantation building which closed in 2020 due to the COVID-19 pandemic, is also a hit with students seeking a public spot to study.  Studying at a cafe "helps me focus more because I can just plug in my earbuds and get in the zone," Sophie Chappell, freshman, said. "It's less chaotic than when I'm at my house because I have less distractions – it's just me and my study stuff, and I end up getting a lot of work done."
And Chappell isn't the only one. Since the location's opening last month, Wildcat reporters, before and after school, have observed the drive thru lane packed with cars, long lines of teens at the registers, and many of the establishment's tables occupied by BOHS students (and even some teachers) with open laptops, AirPods, textbooks, and, of course, coffee.
Sierra Rios, junior, is a fan: "It's a great place for people to get together and hang out [while] still being close to the school," she said.