Drawing from Inspiration
Senior Gunnar Cierley reflects on his creative influences and evolution as a comic book artist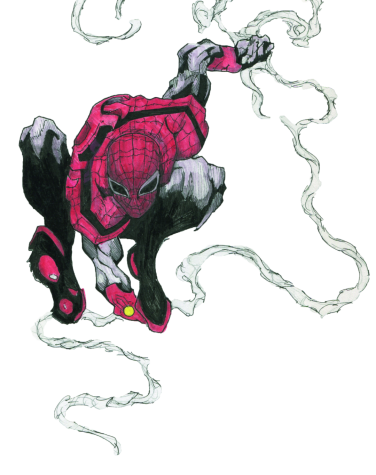 There's a certain "high" that I experience when I draw. I pick up a pencil, choose a reference (Bruce Timm's Mad Love Batman comic, for instance), plug in my earbuds (blasting '80s playlists), and time flies. Soon, I'm illustrating Spider-Man shooting a web-line across the bustling streets of New York City and Venom's contorting tentacles, each detail and crosshatch fighting to fill the white space.
My love of drawing stems from both my passion popular culture and my creative DNA. Almost all of my relatives are artistically inclined, originating with my grandfather, who illustrated pirates, airplanes, hot-rods, and portraits of elderly people. Also artistic are my uncles and my parents (more on that later), all of whom contributed to jumpstarting my love of art.
Before I could even talk, I was entranced by the adventures of Luke Skywalker in Star Wars, felt the rush of wind as Spider-Man swings through Brooklyn, and laughed for hours at Michelangelo's dumb jokes while battling Shredder in Teenage Mutant Ninja Turtles. These classics kept me busy for hours while at my grandma's house, with piles of action figures and comic books. Most importantly, the comics, toys, cartoons, movies, and my artwork (especially the artwork) were necessary distractions while I was being adopted.
Yes, true believers, I was adopted at the age of five. My biological father and mother weren't able to take care of me as a result of issues which, to this day, I haven't fully been enlightened to. My Uncle Chris and my Aunt Maria stepped up and adopted me, becoming my parents, and I wouldn't have it any other way.
While my family was shifting around me and while living in a small apartment in La Habra, my Uncle Chris received reprints of early Amazing Spider-Man comics, starting with Amazing Fantasy #15, Spider-Man's first appearance. Now it's my prized possession in a growing comic collection. At five years old, I fell in love with the web-slinger — his wit, his costume, his abilities — and as I grew up, I learned to love his relatability, the genius poetry of Peter Parker being a normal teenager juggling history tests and photojournalism while also protecting the city as Spider-Man. It was this relatability that piqued my interest for the character, and superheroes in general, at such a young age.
"
Before I could even talk, I was " entranced by the adventures of Luke Skywalker in Star Wars, felt the rush of wind as SpiderMan swings through Brooklyn, and laughed for hours at Michelangelo's dumb jokes while battling Shredder in Teenage Mutant Ninja Turtles."
— Gunnar Cierley
While I spent time at my grandparent's house, I discovered my biological father's artistic ability. My grandmother gave me an old sketchbook of his that detailed the adventures of his original characters, The Super-Fruits, a team of healthy fruit- and food-inspired heroes utilizing their weapons to fight against the diabolical Spoilers, a band of villainous, sentient junk food.
I was shocked by the attention to detail in each panel, with pages filled with dynamic action sequences of good versus evil, fistfights, and corny puns ("This'll be a piece of cake!" Licorice Luis says). These homemade comics made me realize that comic book artistry is in my blood. During birthdays I would even receive full-page, full-color images of the Hulk and Spider-Man hand drawn by my biological father.
As a result, I wanted to improve, because although my biological dad wasn't ever a large part of my life, I felt like I could communicate with him through our shared love of comics and art. My art, and my desire to pursue art as a profession, is testament to that relationship, the bond that ensues from pouring imagination onto a blank piece of paper.
My current passion and stress reliever: drawing Marvel superheroes and original characters like the mystical Esmeralda and the heroic Wing, all drawn in dynamic poses with cross-hatching and shading, skills learned from my father's drawings. Whenever I sit down and pick up a pencil, I can set everything aside that stresses me out.
My grandparents encouraged me to draw; they bought me tutorial books on how to draw dynamic figures with step-by-step instructions for drawing superheroes. This, combined with TV shows like Teen Titans and Justice League Unlimited, is what allowed me to learn how to develop different characters, whether they be heroes traversing the streets of Manhattan, or images of war with soldiers rushing the enemy.
My style further developed at Brea Junior High when I discovered anime like Attack on Titan and Naruto. And Ms. Hooghkirk's art class taught me how to shade and consider perspective in my art. Best of all, I spent hours laughing with my friends as I put my growing imagination on paper.
In those rare moments when I lacked inspiration, I would — being the nostalgia-crazy kid I am — break out my old comic book collection, stacks of alphabetized, glossy masterpieces passed down to me, and comics bought from trips to La Habra's Phat Collectibles, and I'd fall in love all over again with the emotional turmoil of the Silver Surfer, Spider-Man's wit, and the blind Daredevil's crime-fighting. I also studied the styles of the greats — Steve Ditko, John Romita, Bruce Timm — and tried to emulate their knack for story-telling and detail.
But drawing also provided a means for me to stay in touch with my family, especially my biological father, who lives in Texas. I wanted to impress him and the rest of my family, I wanted to impress my friends, but most importantly, I wanted impress myself, because in the words of legendary comic book artist Jack Kirby, "It's not in the draftsmanship, it's in the man. A brush is a dead object. It's in the man. If you want to do it, you do it."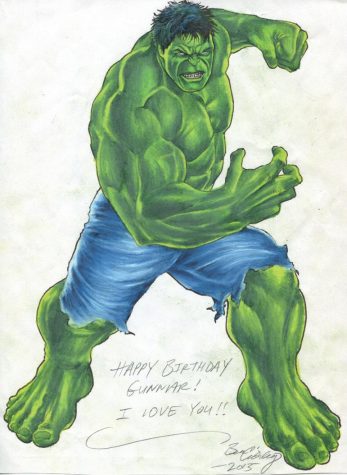 Leave a Comment