A Hidden (Purple) Gem in Buena Park
The Cafe Bora chain brings South Korean bingsu flavors and Instagram-ready delights to OC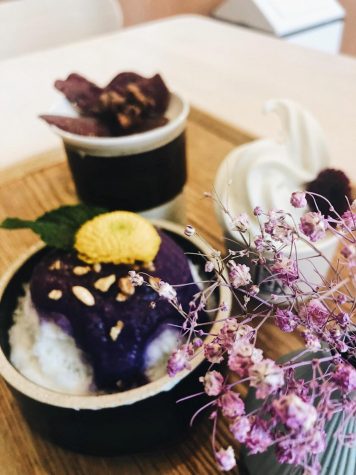 I'm proud to say that I stop by this Cafe Bora location in Buena Park on a weekly basis. Originating in Seoul, South Korea, the Cafe Bora chain provides a wide variety of unconventional bingsu flavors.
In Korean, "bora" means purple. Just like its name indicates, Cafe Bora specializes in purple sweet potato desserts, ranging from candied ube chips, dried ube toppings, and ube shaved bingsu. Cafe Bora mainly focuses on making purple sweet potato shaved ice and soft serve ice cream, but they also specialize in other flavors, like honeydew, persimmon, and matcha. 
Bingsu is a popular Korean milk-based shaved ice dessert with several toppings: condensed milk, fresh fruit, red beans, and sweet rice cake. Although bingsu can come with a seemingly infinite number of toppings, the most traditional and well-known bingsu is patbingsu, which has red bean paste as one of its main toppings.
Upon entering the Buena Park location, I noticed that the counter was positioned off-center to the left, the bathroom was conveniently located to the right with the return trays, and white tables and countertop seats were arranged near the windows. My first impression of their interior design was that it was clean and minimalist. The white walls, the natural light from the large windows, and delicate purple vases of flowers that adorned each table enhanced the vivid purples of the ube desserts. 
After paying for my usual order — their signature purple sweet potato bingsu and persimmon bingsu — I took up a spot right next to the window. Just a few minutes after I secured my seat by the window a worker brought me my two bingsus. Employees checked in on me every now and then, but also gave me space to enjoy the desserts and conversation with friends. 
The beautiful presentation of the bingsus instantly sparked the Instagram foodie inside me and I took several pictures of the food. The shaved ice comes presented in layers of fancy clay containers, each holding different components of the bingsu: sweet condensed milk, candied sweet potato chips, dried jujube, and lastly, the shaved ice. I love how they use a mixture of milk and condensed milk for the base of the shaved ice to balance out the sweeter toppings. Both the sweet potato and persimmon syrups on top complement the shaved ice.
During the pandemic, Cafe Bora adjusted how it serves its customers to ensure safety. For example, all of the workers have to wear masks, and customers must wear a mask to enter the cafe. They added a clear divider for the cashier, ensuring the safety of the customers and employees.
Overall, I highly recommend the Instagram-worthy Cafe Bora in Buena Park who wants to satisfy their sugar cravings.
Cafe Bora is located at 5444 Beach Blvd in Buena Park, just west of Fullerton, and a few blocks north of the 5 Freeway.
Leave a Comment
About the Contributor
Amber Kim, A&E and Foods Editor
Senior Amber Kim is an avid reader/foodie. This is her third year on staff, and she can't wait to share about local eateries that peak her interest; alongside...