Recipe for Disaster: City of Brea Opts for Fried Poultry, Sweet Tea Over Safety of Children
The City of Brea seems more concerned about the convenience of chicken fingers than about the safety of its children. 
A proposal to construct a Raising Cane's on 255 East Imperial Highway was approved by the Brea City Council on Feb. 16 by a 3-2 vote. After the demolishing of 12,000 square feet of retail and medical offices, the restaurant will occupy a corner of Gaslight Square, just yards away from Laurel Elementary Magnet School. 
While some Brea residents may be eager for the arrival of Cane's crinkle fries and sweet tea, the addition of the chicken chain in the area will create far more negative consequences than positive, including increased traffic in an already-congested corridor; a safety hazard for Laurel students and families; and adding another eye sore in a community already teeming with fast food restaurants.  
The announcement of the chain's arrival just across Flower Avenue from the Laurel Elementary campus was met with criticism and protests from Laurel parents and staff. Concerned parents fear that hungry customers craving crispy chicken strips will pose a danger to students due to an influx of traffic at the popular fast food restaurant.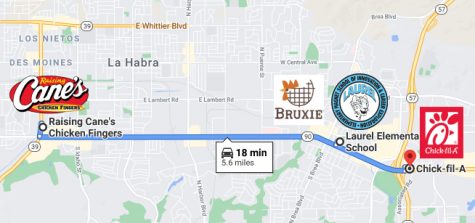 On the corner of Gaslight Square on Feb. 13, parents wearing crossing guard jackets and carrying signs that read "Children over Chicken" and "Safety over $$$," protested the construction of the Cane's. 
Advocating for an end to the project, Kari Windes, librarian at Laurel Elementary, said, "With a restaurant, and the addition of more than 1700 trips, it will become a dangerous nightmare when mixed with impulsive little ones." 
Windes is right: The Raising Cane's location in La Habra is perpetually busy, with drive through lines comparable to those of the always-slammed In-N-Out.
The city offered a "solution" to the traffic concerns: a raised median built at the end of Flower Street facing Imperial Highway to prevent left-hand turns to reduce traffic. However, while this might fix traffic at one end of the street, the other end is left at risk of long drive-thru lines snaking down the street.
And does Brea really need another chicken-themed restaurant? There is a Bruxie just steps away in Downtown Brea, a Chick-fil-A 1.3 miles east on Imperial Hwy., and a Raising Cane's 4.3 miles west on Imperial. On a single 5.6 mile stretch of Imperial Boulevard, there will be four fried chicken restaurants. 
Also, while Gaslight Square doesn't exactly exude charm with its blocky brown buildings, it shouldn't be replaced with yet another fast food restaurant. The space could instead be transformed into a public park or even a modern art showcase — did you know that 175 statues dot Brea? — that would create a much-needed green space adjacent to the crowded downtown, as well as offering an after-school hangout for Laurel staff, students, and families. 
Building a Raising Cane's is an unnecessary danger to the children, families, and staff of Laurel Elementary Magnet, and it further diminishes the character of the city. 
---
Edit: Square footage of the Raising Cane's development was incorrectly stated as 9588 square feet. The exact square footage is unknown at this time. Also, the article originally stated that the raised median was Cane's solution to heavy traffic. The median is the city's idea. 
View Comments (1)
About the Contributors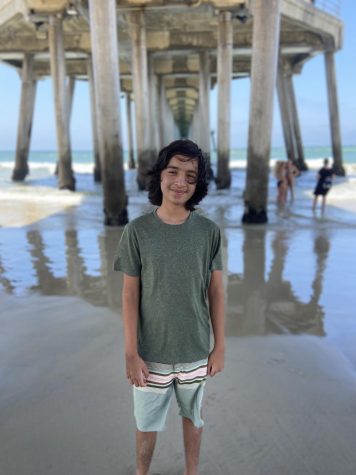 Jared Corona, Staff Writer
Jared Corona is a freshman ready to tackle his first year on the Wildcat staff. Outside of the Wildcat you can find Jared running for the cross country...
Charlize Chiang, Photo Editor
Charlize Chiang, senior, is a Photo Manager and Illustrator for the Wildcat and returns for her third year on staff. She competes for varsity tennis, and...