Biden Elected 46th President; Pledges to Unify U.S.
Joseph R. Biden Jr. was elected as the 46th president of the United States on Nov. 7 when Pennsylvania's 20 electoral college votes put Biden over the 270 threshold. With Biden, Kamala Harris was elected vice president and will be the first woman, and Black and South Asian American, in the position. 
Four days after Election Day on Nov. 3, Biden gained the 270 electoral votes needed to win the presidency. Currently, Biden sits at 290 electoral college votes, with Donald J. Trump stalled at 214. (Although Biden is ahead of Trump by .2% in Georgia, the state has not yet declared a winner, and its 16 electoral college votes remain unclaimed.)
Because some states like Georgia and Wisconsin are only a few thousand votes apart for each candidate, there will be a recount in order to verify and confirm the results. Trump has called for a recount in Wisconsin, where Biden was leading by about 20,540 votes, and it is expected that there will be a recount in Georgia due to the slight 10,000 vote difference between the candidates.
Once the news that Biden won the presidency was broadcast, Biden tweeted, "America, I'm honored that you have chosen me to lead our great country. The work ahead of us will be hard, but I promise you this: I will be a President for all Americans — whether you voted for me or not. I will keep the faith that you have placed in me."
Biden addressed the nation in his victory speech in Wilmington, Del., along with vice president-elect Harris, on Nov. 7. 
In the audience, people on foot and in vehicles packed the area, wearing red, white, and blue holding "Biden/Harris." Loud cheers and horn honks punctuated the vice president-elect's and president-elect's speeches.'
Harris said in her speech, "While I may be the first woman in this office, I will not be the last, because every little girl watching tonight sees that this is a country of possibilities."
After Harris, Biden jogged onto the stage, and pleaded for unity in the divided nation. He said, "I pledge to be a president who seeks not to divide, but unify, who doesn't see red states and blue states, but only sees the United States." He emphasized his goal to unify and to "rebuild the soul of America."
The presidential swearing-in ceremony will take place in front of the United States Capitol, and will be followed by the Inaugural Address, on Jan, 20, 2021. The day will mark Biden's first official day as president of the United States of America.
Leave a Comment
About the Contributors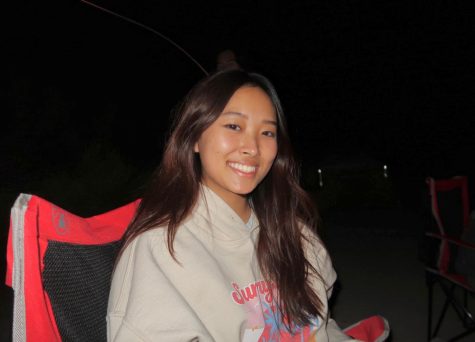 Doyon Kim, Editor-in-Chief
Doyon Kim, senior, is the Editor-in-Chief of the Wildcat, and this is her fourth and last year on staff. She loves binge-watching TV shows during her free...
Makayla Huerta, Illustrator
Makayla Huerta, senior, is excited for her third year of illustrating for the Wildcat. She spends her days creating artwork, jamming out to music, and...