Say 'Hola' to Señorita Arias
BOHS's newest Spanish teacher, Daisy Arias brings a love for teaching and the Spanish language to the Wildcat community. A 15-year teaching veteran and first-year BOHS teacher, Arias attended UC Santa Barbara as an undergrad, and then Azusa Pacific University for graduate school.
Arias shares more about herself in an interview with with Wildcat staff writer Melissa Perez.
The Wildcat: How long have you been teaching? 
Arias: This is my 15th year teaching.
The Wildcat: What other schools have you taught at? 
Arias: I taught at Pomona Catholic High School for six years and eight years at St. Pius X St. Matthias Academy.
The Wildcat: What subjects are you teaching at BOHS, and what do you enjoy about teaching these subjects?
Arias: I am teaching Spanish 1 and an [online] APEX class. I enjoy helping students learn something new and seeing them learn how to communicate in a different language.
The Wildcat: How has the adjustment to distance teaching been for you? 
Arias: It has been a challenge, but it has also served as a reminder of how much I love my profession. It has been hard to adjust but knowing that the students are going through the same struggle serves as motivation to keep pushing myself.
The Wildcat: What's been the biggest challenge with distance learning? 
Arias: Getting to know each student individually via Zoom. I miss being in the classroom and interacting with the students. 
The Wildcat: What did you look forward to the most once in-person classes returned to BOHS?
Arias: Getting to know the students!
The Wildcat: What do you bring to BOHS that makes you unique?
Arias: I am very passionate about education. I want to support my students anyway I can and help them in their educational journey.
The Wildcat: What are some of your hobbies or interests outside of teaching? 
Arias: I love reading. My favorite is fiction. I am a big Disneyland fan and I enjoy hiking. 
The Wildcat: Do you have any pets? 
Arias: I have a chihuahua; her name is Bambi.  She has been in our family for almost 15 years.
The Wildcat: How have you been spending your time this quarantine? 
Arias: I taught summer school this summer so that took up most of my time, but I am learning how to cook in my free time. 
The Wildcat: What's a fun fact about you that you'd like us to know? 
Arias: My favorite color is green; my favorite animal is the pig; and I'm an only child. 
Leave a Comment
About the Contributors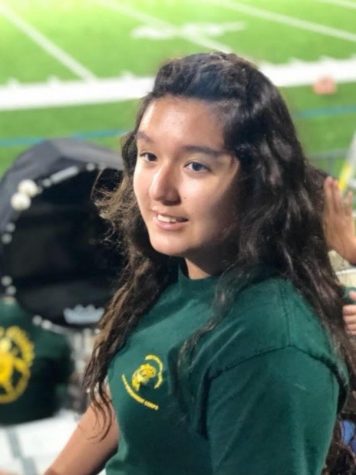 Melissa Perez, Opinion Co-Editor
Senior Melissa Perez is a first year staff writer. She is the captain of the BOHS Color Guard team and has spent the last four years in high school dedicating...
Diana Lee, Photographer
Diana Lee, junior, joined the Wildcat Staff in 2020-2021. She enjoys taking pictures of trips and fun times to look back on for memories. She spends her...