Walk the Red Carpet at Friday's HoCo Dance
The red carpet awaits BOHS students at the Yost Theater for "a night in the spotlight" at this year's Hollywood-themed Homecoming dance on Saturday evening.
This week's Homecoming dance is BOHS's first since 2019, and while last May's prom was an opportunity for Wildcats to dance the night away, this year's event is hosted at an off-campus venue – the historic Yost Theater in downtown Santa Ana — rather than on campus.
The dance will be a bittersweet moment for seniors like Megan Swenson. "These are my last memories of this year, [and] being able to spend it with my closest friends is the most exciting part," Swenson said.
But for underclassmen like Jayden Bae, freshman, the traditional annual dance is the start of something new. "Just a few years ago, the thought of high school events like Homecoming felt so 'mature' and 'grown up,' but now that it's finally here, I'm excited to experience it," Bae said.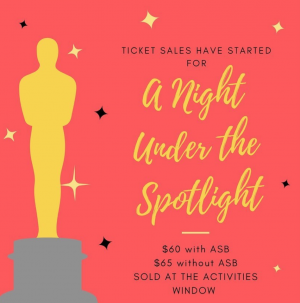 Since the student body wasn't ever completely together last year due to social distancing and stricter COVID-19 protocols, many students, such as Jocelyn Islas, sophomore, is "excited to see what it's like [to interact] with other students."
Jonai Keys, freshman, is looking forward to a weekend of fun. "During school, I have been very busy with school and sports, so this event will give me a reason to relax and have fun," Keys said. "I really look forward to the partying and [putting] a pause on 'real life'."
Due to the ongoing pandemic, there will be safety protocols in place: masks must be worn at all times at the dance, and 72 hours in advance of the dance, attendees must take a COVID-19 test and get a negative result. (Free testing is available at the BOHS gym from 1:30 to 5 p.m. this afternoon.)
Peyton Deck, sophomore, will attend the dance with some peace of mind due to the safety measures. "[The protocols] are for the welfare of our students and I think it's important that we have some sort of precautions in place to avoid any potential [exposures]."
To generate excitement about the football game and dance, Homecoming festivities began with daily dress-up days during Spirit Week from Sept. 13 to 17.
On Sept. 17, varsity football defeated Fullerton High School, 26-18, in front of a packed Den.
Before kick-off, the Homecoming court was showcased in a "float parade" of decorated golf carts that circled the track. At halftime, the princesses, escorted by an important person in their lives, were announced, and  Samantha Dizon, senior, was named Homecoming Queen.
Ticket sales for Saturday's dance at the Yost Theater end today, so students still hoping to attend must purchase their passes at the Activities window before the end of the day. 
Leave a Comment
About the Contributors
Lana Tran, Staff Writer
Freshman Lana Tran is starting her first year on the Wildcat staff this year. She loves to express herself through her creative ideas and all the things...
Kasia Alexander, Photographer
Kasia Alexander, freshman, is a photographer on the Wildcat. She enjoys baking, hanging out with friends and family, and dancing. One of the joys in her...