Behind the Bling: Lyndsey Gutierrez ('17) Turns Passion for Fashion Into e-Boutique
Lyndsey Gutierrez ('17) always dreamed of starting her own fashion business and opening a storefront at the Irvine Spectrum, to compete with popular boutiques like Princess Polly and Isabelle's Cabinet. And in 2019, Gutierrez realized her dream with the launch of her jewelry business, Thirteen by Lyndsey. 
When Gutierrez lost her primary job at Baskin-Robbins due to the pandemic, she used her downtime to create content — items currently include jewelry, tote bags, and scrunchies — and to market her business. She started posting on her TikTok account which resulted in daily sales. She then decided that she "could put her all into Thirteen" and make it a full-time job.  
The biggest challenge in launching her business last October was figuring out where to begin because she had "no idea what I was doing at first." She decided to start selling her jewelry on Instagram and Depop before her website was launched. Gutierrez then saved her money from her Baskin-Robbins job and invested it into her business. Just three months later, she formally announced her shop, and from there, she said, "it was all a learning curve."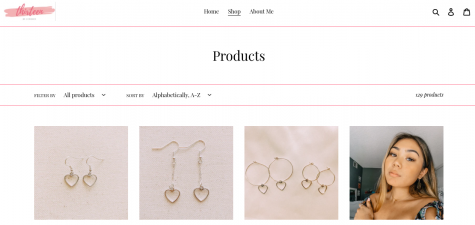 This learning curve consisted of Gutierrez doing her own research on how to start a business and learning how to find a target audience. Gutierrez said that she quickly "learned how to use social media to market, get a business license and legal documents, and how to create an e-commerce store."
"I ended up taking an e-commerce-based class at Fullerton Junior College that helped me understand everything I needed to do to start a business. My professor, Rachel Nevarez, taught me everything I know now about starting an e-commerce, home-based business," Gutierrez said.
Gutierrez's jewelry business allows her to tap into her creativity to produce pieces for people all around the world. 
"There is something so special about others wearing pieces I handcrafted and put so much thought and care in," Gutierrez expressed. She spends about two to five minutes to create the earrings and droplets, and anywhere from five to ten minutes for necklaces. Custom name necklaces, however, usually take more time to make, depending on the name she tries to craft with the metals and chains she uses. 
Gutierrez loves "reading the beautiful names of my supporters and using wire to spell out their names. I and everyone who wears them always get so many compliments on it." 
Gutierrez has quite fond memories of BOHS, as teachers like English teacher Jonathan Quiming, history teacher Brian Schlueter, and choir directors Dave and Alex Willert, influenced her and provided guidance that she uses in her life now as a budding entrepreneur. 
"Mr. Quiming's class was especially helpful to me as a senior going to be a freshman in college," Gutierrez said. 
Quiming shared that he remembers Gutierrez as a "polite, considerate, resilient, and creatively open-minded student." He recalled her interests in beauty and art and the fact that she had always carried a positive attitude about life. In his English classes, he finds that it is important to instill phrases into his students' lives that have resonated with him. Quiming's commonly-used phrase, "Are you living or just existing?" applies to Gutierrez in how she made her dream of creating a small business into a reality.
Schlueter remembers Gutierrez as "such a sweetheart" and "a very hard worker." He recalled that Gutierrez was always willing to hustle and push herself in anything that she put her mind to. Schlueter has always tried to connect with his students on any level that he could to show his students "how awesome life can be" if you follow your passions. His famous phrase  "get after it," and the word "groovy" are two mantras of his life that he instills into students so that he can help guide them to success, as he did Gutierrez. 
When asked how her small business has changed her life, Gutierrez said that having a small business has changed her outlook on life and made her realize what she is capable of.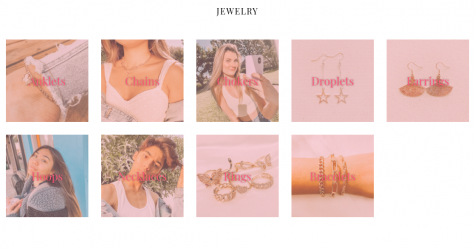 It has taken Gutierrez a year to gain her Instagram following of 777 as of mid December, and five months to gain a thousand followers on TikTok. "I am not done growing," Gutierrez shared. 
Thirteen by Lyndsey's bestsellers are the Love Me earrings and "the custom name necklaces, as well as anything with butterflies." Her favorite piece that she handmade of 'The Bling Collection" is the custom name necklace.
Gutierrez has received many five-star reviews from buyers, including feedback like "you can tell she puts so much time into her orders" and "the packaging was adorable and it was shipped really fast." 
Currently, Gutierrez, a psychology major at California State University, Fullerton, plans on attending grad school for Industrial and Organizational Psychology while keeping up with her business. 
To anyone who wants to start their own small business or anything in that realm, Gutierrez advises that, "If you want something really bad, it may not happen overnight. If you work hard and truly have [a] passion for it, anything is possible." 
"My ability to put smiles on so many people's faces because of the products I make is truly a feeling I can never explain," Gutierrez said. "Whenever I get overwhelmed and stressed out, I know that so many people from around the United States [are] cheering me on. I know I have experienced what hard work, passion and dedication can do, and I am so proud of myself for that."
Leave a Comment