A Life-Changing Exchange
Junior Giulia Cucinotta reflects on her year as an exchange student and the differences between life in Italy and the U.S.
As soon as I landed after a 14-hour flight from Italy and stepped into the car that would take me from LAX to Brea, I realized that a new chapter of my life was about to start.
The five lane highway, massive trucks driving by, palm trees on the horizon — I took a deep breath and recognized that I really was on the other side of the world now. However, I felt ready to experience new adventures and to learn about a new culture. 
When I decided to do the exchange year in the U.S., I already knew what to expect because I heard a lot about other people's experiences and I spent many hours watching videos. But after actually living the high school experience as a teenager in the United States for the past year, I can confidently say that this has been the best experience of my life. 
I arrived in the U.S. from Milan, Italy in August 2022 and immediately the beautiful sunsets and people made me fall in love with California. 
My first friends at Brea Olinda High School were members of the volleyball team. My teammates are helpful and joyful girls that made me instantly feel a part of the team. 
During my stay in Brea, I've been asked a lot if I prefer the U.S. or Italy and I always say that these countries are so different from each other that I can't choose one. 
Even though I really like America, I didn't fully understand its culture. For example, two of the biggest differences are the food and the school system. 
In Italy, food is tradition. Italian families use lunch and dinner to gather family together. Americans, however, don't seem to have a set time for meals and usually eat quickly and often eat fast food because it is easier.
My favorite thing about my experience as a teenager living in the U.S.? The school system. I love how BOHS lets students choose what subject they want to study and we have the option to change our classes if we don't like them. I feel this system benefits students by letting us discover our passions. 
In Italy, we don't have these choices. After graduating junior high at 13-years old, every student has to pick the type of high school they want to go to for the next five years. Some high schools deepen classical studies; some focus on the sciences; some feature mastery of languages. Over the five years, the students study the same subjects. Since teenagers have to decide what they want to do with their future when they are 13-years old, they often realize after many years that the school isn't the one that they are really interested in. So, in Italy, there is a lot of unhealthy pressure on students from the teachers.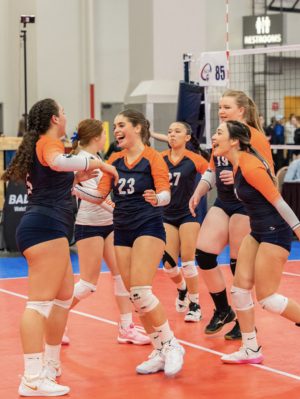 The Italian school system is also very old fashioned; for example, we hardly ever use Chromebooks. Instead, we prefer textbooks and all the lessons are structured the same way: the teacher talks for one to two hours and the students take notes. Also, Italian schools require a lot of individual study at home; because of this, sports aren't a priority and a lot of teenagers are forced to drop their sport to keep up with school. We also written and oral tests every week in our 11 classes. 
I am very grateful for the teachers that I have met this year; everyone was truly interested to know me and they are helpful and happy to help in school and with personal problems. For example, my teachers ask students how their weekends were, and they want to know about our sports achievements or our projects for the future. I find this a very respectful way to let the students know that they support us and they are happy to encourage us to achieve our goals. 
Teachers in Italy are more straightforward and it's normal to call out people in front of the class; in the U.S., teachers (at least the ones I had) maintain calm and don't raise their voices. I admire this behavior because I know it's not easy for teachers, especially when they have 35 or more teenagers to teach. I also appreciate that they don't just explain the lesson, but they help me get the best grades with extra credit and other opportunities.
One of the biggest culture shocks that I have experienced at BOHS is that students seem to exist in their own bubbles, with many preferring to be on their phones during free time instead of chatting in person with friends or neighbors. It was shocking to be in a class of 35 students, almost all of them on their phones, not talking to each other.
"
Immediately, the beautiful sunsets and people made me fall in love with California. 
In Italy, students stay in one class all day and the teachers change every period. Italian students grow, learn, and help each other collectively; they share ideas, thoughts, and positive criticism during their long days together.
When students have free time in Italy, they hang out in public places like squares or downtown. Cities in Italy are very walkable, so even the youngest people can hang out with their friends without the need to have a car. The main streets of a city are usually full of restaurants, shops, and bars where you can always meet new people. Also, most Italian teenagers have sports practices in their free time — since they don't play sports at school, they join clubs that require a lot of free time. Sports can't help students to get into colleges, like they do in America, so scholastic sports are not as important in Italy as they are in the U.S.
Some of my favorite memories of my stay in the States were the days spent at the beach. I'll never forget looking at the sunset with my friends. The cold wind and the ocean waves made me feel like I was in a movie.
I also enjoyed traveling across California with my friends. We have been to San Francisco, San Diego, Big Bear, Las Vegas, and Joshua Tree. I love that living in California means having the desert, the beach, the mountains and the big cities relatively close to each other. I visited many different places and I learned something new every time.
In June, I'll board another plane to my home in Milan. It's really sad to leave everything behind. I'll certainly miss my friends, Brea Olinda High School, my teachers, and the many beautiful places I visited in California, but I will be returning to Italy as a new person. I learned so many things this past year, things that I will never forget; I learned how to be independent and that I can count on myself more than anyone else. I plan to keep in touch with everyone I've met and, who knows, maybe one day I will come back.
Leave a Comment