eSports Begins '20 Campaign with 2-1 Record
The Overwatch match loaded, and two teams sat in front of their monitors, gripping their mice as BOHS eSports was about to go head-to-head with Cypress High School.  
Overwatch is an online shooter game where players can choose from an array of characters with unique abilities and gimmicks in round-based gameplay. In competitive matches, the games modes consist of six players against six others, with the "Control" players taking control of one area, and "Assault" has players fighting for two areas.
The match against the Cypress Centurians began with each player playing a key role as damage, tanks, or support. Wildcat eSports players like Lynette Jeong, senior, and Andrew To, junior, provided health recovery with Overwatch character Mercy, while seniors Ben Dominado and Aaron Armienta, fought to claim the marked zones to win the match. 
Lasers were shot, "punches" were thrown, and Sean Cronin, freshman, and Jacy Reyes, senior, fought with their tank characters, but were swiftly defeated. And after a half hour of frenzied play, Cypress had won two matches, and thus, the game. The loss left Wildcats eSports to 2-1 on the season, their first loss after back-to-back wins against Alhambra High and Cypress High, on Oct. 7 and Oct. 14, respectively.
Cronin remarked on some of the troubles of the match, "We were missing a key player, and because the other team didn't really follow one of the rules in their preparation, but we let them play anyway, and we all were playing stuff we weren't used to and played worse than usual."
"We are constantly talking to each other and coordinating plays and strategies to help us win. This creates a very intense atmosphere and it becomes much more than just a video game," Dominado said
eSports matches have been happening virtually, at each player's home, with each team communicating on Discord, a gaming messaging platform.
After the match, Sean Cuevas, senior and CEO of the eSports program, remarked on the teamwork and growth of the team. "I really enjoyed seeing the team grow from only a couple members to a full functioning team. My goal is to improve and get better as a player and as a teammate," Cuevas said.
While the teams won two out of the three matches this season, no physical awards were given — just confidence and hope for what's come. Dominado commented on the future of the team, and said, "Personally, Aaron [Armienta] and I feel very confident going into future competition. We recognize the talent on our team and we work every day on improving our team's cohesion."
The eSports team has grown from 15 active members in 2019 to over 50 members this year. With the pandemic increasing popularity of both casual and competitive gaming, and increased advertising during Virtual Club Rush in March, the club has gained 35 new members to the program. 
While the Overwatch team is no longer registering players, Dominado said, "We would be happy to accept new members to the BOHS eSports Club in which [new members] would help participate in scrims, be a part of our practices, and other Overwatch-related activities."
BOHS eSports matches are broadcast live on Twitch on Wednesday afternoons.
Leave a Comment
About the Contributor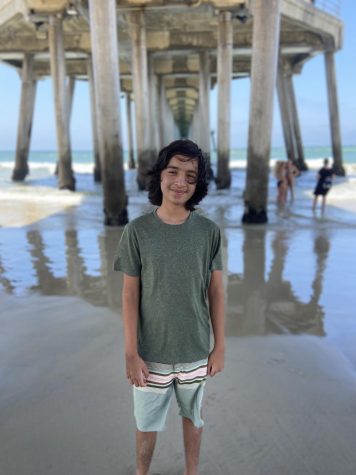 Jared Corona, Staff Writer
Jared Corona is a freshman ready to tackle his first year on the Wildcat staff. Outside of the Wildcat you can find Jared running for the cross country...